« October 2004 | Main | December 2004 »
November 30, 2004
One more danger actuaries won't have to account for

A bit more than 100 years after the Wright Brothers made history at Kitty Hawk, it is finally illegal to fly drunk in Pennsylvania.
The vote in the House was 184-10. Which begs the question: Are there 10 representatives who actually believe that a pilot should be allowed to toss back a few for the runway?
Posted by Tom Troceen at 02:27 AM
Anthem Seeks Grant Applicants To Help Fight Childhood Obesity
Anthem Blue Cross and Blue Shield (Anthem) wants Kentucky school nurses to submit their innovative ideas for promoting heart healthy habits among school aged children. Anthem will give grants of $500-$1,000 for the best programs, to be implemented in the 2005-06 school year. The grants will be awarded to Kentucky schools in April 2005.
"More children are becoming overweight, even obese. School nurses, who are on the front line, know that many of these kids are at risk for developing health problems through poor eating habits and nutrition, lack of exercise and other unhealthy lifestyle factors," said Sam Cramer, M.D., medical director for Anthem's Midwest operations. "Through the Anthem School Nurse Grant Program, we can support creative ideas that address these concerns and allow us to deliver on our mission of improving the health of the people we serve."
Anthem will award $5,000 in grants in Kentucky to facilitate the development of innovative school health programs that are based on research. The money can be used to fund a wide variety of activities that promote healthy lifestyles, reduce cardiovascular risk factors, encourage physical activity, and/or support healthy eating habits.
Eligible applicants include school nurses who are licensed in Kentucky and represent a public or private elementary, junior high, middle or high school in Kentucky. Grant proposals are due no later than February 1, 2005 and programs must be initiated in the fall of 2005.
Anthem is working with the Kentucky School Nurses Association (KSNA) to spread the word. Full details on the grant applications are available on the Anthem website (http://www.anthem.com ). Representatives from KSNA and Anthem will select the grant recipients.
The 2005 grant awards will mark the second year for Anthem's program. Six Kentucky schools, Crawford Middle School (Lexington), Summit View Elementary (Independence), Westside Elementary School (Cynthiana), George Rogers Clark High School (Winchester), Clarkson Elementary School (Clarkson), and Highland Elementary (Staffordsville) received funding to implement ideas proposed by their school nurses in the 2004-2005 school year.
Anthem's mission is to improve the health of the people it serves. The Anthem Blue Cross and Blue Shield companies, including Anthem Blue Cross and Blue Shield in Kentucky, provide health care benefits to more than 12.7 million people. Anthem Blue Cross and Blue Shield in Kentucky is a subsidiary of Anthem, Inc.; both are independent licensees of the Blue Cross and Blue Shield Association. Anthem is the Blue Cross and Blue Shield licensee for Indiana, Kentucky, Ohio, Connecticut, New Hampshire, Colorado, Nevada, Maine and Virginia, excluding the Northern Virginia suburbs of Washington, D.C. More information about Anthem is available at http://www.anthem.com .
Posted by Tom Troceen at 02:14 AM
PacifiCare Health Systems Signs Definitive Agreement to Purchase Pacific Life's Group Health Insurance Business
PacifiCare Health Systems, Inc. and Pacific Life Insurance Company jointly announced today that they have signed a definitive agreement whereby PacifiCare will purchase Pacific Life's group health insurance business. The business includes medical, dental and life coverage for small and large group employers, and is distributed through a network of approximately 30,000 brokers and agents in 30 states. Although the financial terms of the purchase were not disclosed, the transaction is structured as a coinsurance arrangement that is expected to result in PacifiCare's acquisition of up to 140,000 medical members. At closing, Pacific Life will cede to PacifiCare all future premiums received for its existing group health business, and PacifiCare will assume all future claim liability. PacifiCare will also obtain renewal rights for the acquired membership.
As part of the transaction, PacifiCare will also obtain assets necessary to support and preserve the continuity of the acquired business, as well as the right to offer employment to the approximately 700 Pacific Life employees who currently provide service and support to the group insurance business.
Approximately 55% of the revenue from the acquired membership is generated in states that overlap with PacifiCare's current eight core health plan markets, and more than 95% of the revenue is generated from membership that resides in states that will overlap with PacifiCare's health plan operations after completion of its previously announced acquisition of American Medical Security Group (AMS). PacifiCare will finance the Pacific Life transaction through internally generated cash, and the companies anticipate a closing date in early 2005, subject to approval from the California Insurance Commissioner and compliance with provisions of the Hart-Scott-Rodino Act.
The purchase of Pacific Life's group health business complements PacifiCare's recently announced acquisition of AMS, and demonstrates the company's renewed focus on the individual and small group markets, which it believes are the market segments offering the most potential for commercial membership growth in the coming years.
PacifiCare's Chairman and Chief Executive Officer, Howard Phanstiel, stated, "This investment is a logical follow-on to our recently announced acquisition of American Medical Security Group. It deepens our penetration and significantly enhances our distribution capabilities in the important small group market, and further improves the size and scale of our geographic presence. And, just as AMS's overlap with PacifiCare's current eight core operating markets gives us the opportunity to build more cost effective proprietary networks, Pacific Life's significant additional overlap allows us to extend the benefits of our existing lower cost networks to the membership acquired from them."
The transaction is also consistent with PacifiCare's strategy of diversification through the expansion of its full-service commercial portfolio balanced against a growing Medicare Advantage business. Based on PacifiCare's most recent forecast's for 2004 operating results, the completion of the AMS acquisition is expected to lower the portion of PacifiCare's gross margin generated from Medicare Advantage from approximately 39% to 35%, and it is anticipated that the purchase of Pacific Life's group health business will result in an additional reduction to approximately 32%. Despite the significant overlap with PacifiCare's current eight core markets, this transaction will also expand the company's geographic presence, and further increase the portion of total membership outside the State of California, from approximately 43% subsequent to the AMS acquisition, to approximately 50%.
Additionally, access to an expanded network of insurance agents and brokers is expected to provide new opportunities for PacifiCare to distribute its other products.
Brad Bowlus, president of PacifiCare's Health Plan division said, "We are very excited about meeting with the agents and brokers in Pacific Life's network to discuss opportunities to expand the distribution of products such as our popular SignatureFreedom plans, Medicare Supplement coverage, HSA products and, eventually, even Medicare Advantage."
Based in Newport Beach, California, Pacific Life's strength continues to be in providing life insurance and annuities to individuals, businesses, and pension plans. Pacific Life's Life Insurance Division and Annuities and Mutual Funds Division are among the leaders in the industry, ranking seventh(1) and eighth(2) respectively in sales nationwide.
Thomas Sutton, chairman and chief executive officer of Pacific Life said, "With today's increasingly competitive health insurance market, Pacific Life made the decision to focus on its core business of providing life insurance products, individual annuities, and other investment products and services to individuals, businesses, and pension plans. PacifiCare provides a great fit for Pacific Life's group health business not only because of their strength in the managed health care industry, but also because of their commitment to the small group market and their focus on member satisfaction."
"We anticipate that, including all integration expenses, this transaction will be mildly accretive. I would estimate about two to three cents in incremental 2005 EPS, depending on the timing of the close in early 2005," said Greg Scott, PacifiCare's executive vice president and chief financial officer.
PacifiCare will hold a conference call to discuss the transaction at 4:30 PM Eastern time on Monday, November 29th. To access the call, dial (888) 459-7564, passcode "PacifiCare."
Risk Factors Regarding Forward-Looking Statements
The statements in this news release, including those made by Howard Phanstiel, Greg Scott, Brad Bowlus and Thomas Sutton that are not historical facts are forward-looking statements within the meaning of the Federal securities laws, and may involve a number of risks and uncertainties. Such forward-looking statements include, but are not limited to, the ability to execute growth strategies, the perceived benefits of the acquisition, the ability to diversify PacifiCare's business, expectations about the timing and receipt of regulatory approvals, and the effects on PacifiCare's earnings in 2005. These risks and uncertainties include, but are not limited to, the ability to implement certain growth or diversification strategies; our ability to consummate the purchase; risks that integration may be more difficult or costly than expected; revenue following the transaction and other actual results associated with the acquisitions that could differ from the perceived benefits; membership retention may be less than anticipated; profitability of the purchased business could be less than expected; and required regulatory approvals for the transaction may not be obtained on a timely basis or may be subject to certain conditions, and other items found in documents filed by PacifiCare with the Securities and Exchange Commission.
PacifiCare Health Systems and American Medical Security Group and their respective officers and directors may be deemed to be participants in the solicitation of proxies from shareholders of American Medical Security Group, Inc. with respect to the transactions contemplated by the merger agreement between PacifiCare and American Medical Security Group. Information regarding the companies' officers and directors is included in their respective Definitive Proxy Statements for their 2004 Annual Meetings of Stockholders filed with the Securities and Exchange Commission in April 2004. These documents are available free of charge at the Securities and Exchange Commission web site at www.sec.gov, from PacifiCare at pacificare.com and from AMS at eAMS.com. Investors and security holders may obtain more detailed information about who may be deemed participants in the solicitation of proxies by reading American Medical Security Group's proxy statement regarding the proposed merger. The proxy statement contains important information about the merger and the transactions contemplated by the Merger Agreement. Investors and securities holders of American Medical Security Group may obtain a free copy of American Medical Security Group's proxy statement and other documents filed with the Securities and Exchange Commission at the Commission's web site at www.sec.gov. American Medical Security Group's proxy statement and these other documents may also be obtained for free from American Medical Security Group at eAMS.com.
Posted by Tom Troceen at 02:12 AM
State Compensation Insurance Fund Files an Average 5% Rate Decrease
Press Release -- State Compensation Insurance Fund today announced it has filed with the Department of Insurance an average rate decrease of 5 percent on new and renewal workers' compensation policies with renewal dates on or after January 1, 2005. This is in addition to separate decreases of 2.9 percent and 7 percent already taken. Therefore, employers renewing between January 1, and June 30, 2005 will receive an average decrease of 12 percent.
In announcing the decrease, State Fund President Dianne C. Oki said, "This latest decrease reflects State Fund's continuing commitment to pass on expected savings from recent workers' compensation reform legislation."
While average decreases will be 5 percent, individual policyholders will also be affected by a number of other changes including individual class experience, experience modifications and rating plan features. Therefore, some policyholders will experience a greater -- while others will see less -- than the average 5 percent decrease.
State Fund Executive Vice President James F. Neary said, "This is the third in a series of rate decreases which reflect the positive impact of the Governor's and Legislature's recent workers' compensation reform measures. In the New Year, the workers' compensation system will see the introduction of carrier managed medical provider networks and a revised system for evaluating permanent disability. When combined with earlier reforms, we expect the changes to put the brakes on escalating costs. We will continue to monitor the impact of reform and I believe it holds the potential for further cost relief for California employers, who in recent years, have been burdened by the nation's highest workers' compensation rates."
Oki added, "To fulfill its Legislative mandate and mission, State Fund must ensure it has the financial strength to meet its obligations to California employers and their injured workers for years to come. This rate filing achieves that objective while providing additional rate relief to our policyholders. We will continue to make the delivery of benefits to injured workers as effective and efficient as possible."
Oki continued, "Over the past five years, State Fund experienced unprecedented growth due to the most dramatic workers' compensation marketplace contraction in California history. More than two-dozen private carriers went insolvent, while others abandoned the market. However, there are now significant signs of a return to normality in the marketplace as an increasing number of private carriers are once again willing to write this important coverage. This provides employers with choices as well as the inherent benefits of a competitive market. I'm very pleased that we are continuing to make progress in the right direction."
Posted by Tom Troceen at 02:06 AM
Restaurants 'Slipping and Tripping' into Financial Disaster
Restaurant Insurance Corp. (RIC) a Greenwood Village, Colo.-based specialty insurance company, released findings from a study of claims filed by its insured restaurants since 2002 showing that slips, trips, and falls by patrons and others are by far the most prevalent claims suffered by full-service restaurants with each such claim resulting in $3,550 in claims costs.
Posted by Tom Troceen at 01:59 AM
November 29, 2004
Get a better-insured home than the Osbournes

The Ozzy Osbourne burglary drama has prompted a flood of advice from insurers on how to make homes safer, coupled with warnings that millions of us are either under-insured or not insured at all.
Thieves broke into the Osbournes' Buckinghamshire mansion. They escaped with jewellery worth £2m after the ageing hell-raiser grappled with one of the intruders and held him in a head-lock.
Posted by Tom Troceen at 03:48 AM
Outraged by 'credit scoring'
The use of "credit scoring" in insurance has been a lightning rod issue over the past several years, as insurers have sought a new way to trim their losses. The companies have increasingly used the information to help their underwriting, while consumers and their advocates denounce the practice as needlessly intrusive and discriminatory.
But while insurance companies praise scoring and insist they'll continue using it, regulators and independent agents say the practice hasn't been as effective as the companies had expected.
Posted by Tom Troceen at 03:41 AM
Welcome to the ageing future
In the UK, a man who turned 60 in 1981 could expect to live another 16 years and a woman almost 21 years. By 2003 this had increased to 20 years for men and 23 for women; and according to official UK projections, by 2026 this will rise to almost 24 years for men and almost 27 for women.
Even this could be an underestimate. Actuaries' charts show life-expectancy projections curving to a plateau to match the notion of a biological "maximum age" beyond which the human race cannot go.
But this theory is being challenged by research which suggests life expectancy may continue to improve in a straight line as it has done in the past.
Posted by Tom Troceen at 03:39 AM
Measure is an effort to put a crimp in vehicle theft rates, lower investigation/insurance costs
A thief slips into a car, hot-wires the ignition and drives off. But within blocks, the car mysteriously shuts off, the doors lock and police swoop in. Busted.
Dozens of police departments are catching car thieves just like this, with new, high-tech "bait cars" that officers can track - and control - from afar.
Bait cars are a tantalizing weapon in combating one of the nation's most common and costly crimes. Some police departments credit bait-car programs with reducing auto thefts by more than 25 percent. Insurance companies like the idea so much that some have begun buying bait cars for police.
Posted by Tom Troceen at 03:26 AM
Joke of the week
Now typically we would bring you a witty joke to start off your work week. Well, this week we have a commercial from a life insurance company. This commercial is entitled ''The New Guy''. (Safe for work / need speakers)
Posted by Tom Troceen at 03:11 AM
Does Music Instruction Aid Mathematical Skills?
Maybe a guitar, violin, or keyboard is the perfect gift for the holidays. Studies convincingly demonstrate the relationship between math and music. It was found that high school students who participate in music appreciation or music performance classes receive Scholastic Aptitude Test (SAT) scores higher than the national average of students who take no music course work. Students who took music appreciation or participated in musical performance had math scores which were consistently 14 to 23 points above the national average and 19 to 37 points above students with no arts experience of any kind.
-A little more on this subject
-Another good site with links on this topic
Posted by Tom Troceen at 03:05 AM
November 26, 2004
R&M Releases 2004 Guide to U.K. Distribution of Commercial General Insurance
Dublin's Research and Markets has announced the addition of a guide to U.K. Commercial Insurance Distribution 2004 to their offering. "This report provides a comprehensive guide to the distribution of commercial general insurance, including current and future distribution channel market shares, unique competitor data enabling brokers to rank their competitors by client type and industry sector," said the announcement. "Unique surveys also provide insight into the purchasing habits of SMEs, and the service requirements of brokers."
The report provides information on a number of topics, as follows, it: -- Indicates distribution splits within the commercial insurance sector based on Datamonitor research and industry insight. -- Gives access to competitor data on We have Insurance Broker Database, sizing brokers by client turnover, client employee number and industry. -- Features two exclusive surveys of brokers and SMEs, providing insight into their needs and requirements and actionable conclusions. -- Provides distribution split forecasts to 2008 to indicate the development of the commercial market in future years. R&M also noted: "Brokers remain the dominant force in the commercial insurance distribution market, accounting for an estimated 90 per cent of all business sold in 2004. While their share has remained relatively static over time, the superprovincial broker sub-segment has displayed the strongest growth in the last few years. "Jardine Lloyd Thompson was the best performing multinational broker in 2003 and had the highest incidence of new client acquisition. The top ten brokers accounted for just over three-quarters of all clients in the commercial insurance market. "Multinational and superprovincial brokers are expected to exert a stronger grip on the commercial insurance market while provincial brokers market share will continue to decline. The direct channel will gradually have a stronger influence but banks and building societies will fail to make significant advancements from their current position." The bulletin said the report is "designed to: -- Access detailed competitor information to understand broker strategies in the commercial market --Understand the major issues affecting SMEs and brokers to gain a better insight into how best to service these important relationships --Gauge the future direction of commercial distribution to enable more accurate planning of customer acquisition strategies." For more information consult: http://www.researchandmarkets.com/reports/c9963, or contact: Research and Markets Laura Wood Senior Manager by fax at +353 1 4100 980.
Posted by Tom Troceen at 02:49 PM
7 arrested in insurance fraud probe
Fraud investigators said Wednesday they have arrested seven of 10 people wanted for allegedly running an insurance fraud ring that bilked 26 major insurance companies out of about $2 million.
Three suspects remain at large, Insurance Commissioner John Garamendi said at a news conference.
Posted by Tom Troceen at 04:16 AM
Lloyd's, Swiss Re bosses land up to get a flavor of India
Indicating the rising importance of India in the global insurance map, the chairmen of two of the biggest names in the insurance business — Lord Levine of Lloyd's and Peter Forstmoser of Swiss Re, the second largest global reinsurance company — came calling to Mumbai on Thursday.
For both, it was the first visit to the country and the agenda was to familiarise themselves with the latest developments in the liberalised domestic insurance industry and to explore possible new activities.
Posted by Tom Troceen at 04:14 AM
AIG to pay $126m to settle allegations
American International Group Inc., the world's largest insurer, agreed to pay $126 million to settle allegations it helped clients such as PNC Financial Services Group Inc. inflate profit.The accords with the US Securities and Exchange Commission and Department of Justice require American International to pay an $80 million penalty and return $46 million in fees it made helping PNC remove bad loans from its books, the New York-based company said yesterday in a statement.
American International Chairman Maurice "Hank" Greenberg, 79, resolved the federal inquiries as New York Attorney General Eliot Spitzer separately probes whether the insurer colluded with brokers to get business. The sanctions equal 5 percent of the company's third-quarter net income.
Posted by Tom Troceen at 04:11 AM
Joke of the week
A group of lawyers and a group of actuaries are travelling by train to conferences in the same city. The lawyers were surprised to see that the actuaries had only bought one train ticket for the entire group. When the conductor entered the front of the car, all of the actuaries got up and went into the same bathroom. As the conductor went down the aisle, the lawyers dutifully handed him their tickets. When he came to the bathroom he said, "Ticket, please." One ticket slid out, he punched it, and went on his way.
On the return trip home, the lawyers thought they'd try the same trick, but this time they noticed the actuaries had not bought any train tickets. As the conductor entered the front of the car, all of the lawyers got up and went into the same bathroom. One of the actuaries walked over to the bathroom, knocked on the door, and said, "Ticket, please."
Posted by Tom Troceen at 01:19 AM
November 25, 2004
Happy Thanksgiving

Posted by Tom Troceen at 05:01 AM
November 24, 2004
A.I.G. Will Accept Monitor and Pay $80 Million to Close Inquiries
American International Group, the world's leading insurance company, has agreed to accept an independent monitor and to pay about $80 million to settle investigations into the sale of insurance that was used by companies to manipulate their earnings, people briefed on the investigations said yesterday.
The imposition of a monitor is unusual, and it represents a remarkable concession by a company that until recently had a reputation for standing up to regulators.
Posted by Tom Troceen at 04:12 AM
Mass. Approves New Residual Auto Plan
After years of industry complaints and months of wrangling among regulators, carriers, voluntary agents, involuntary agents, consumers and lawmakers, Massachusetts has overhauled its system of insuring high risk drivers.
Massachusetts Insurance Commissioner Julianne M. Bowler on Nov. 23 issued an order approving new rules for what proponents hope is a more equitable distribution of high-risk drivers among insurers in the state's residual auto insurance market.
Posted by Tom Troceen at 04:10 AM
Give the Gift of Good Grades this Holiday Season with Texas Instruments Graphing Calculators
Just in time for the holiday season, family and friends can give their favorite student the gift that will make the grade throughout the school year -- a Texas Instruments graphing calculator. With graphing calculators allowed, and often recommended or required, on many standardized assessments including the SAT, this educational gift can help students increase their understanding of complex math and science class work and be better prepared for a testing situation.
And this holiday season, TI is pleased to offer two new free educational resources for TI graphing calculator owners: online math homework help, and electronic flashcards featuring SAT sample questions prepared against the new SAT format coming in March 2005. For those students (and parents) wanting resources that can help increase classroom success, TI graphing calculators, combined with these new holiday offers, can help make the second half of the year better than the first.
Hotmath.com Free Homework Assistance TI has teamed with Hotmath.com to provide free access to its online textbook tutoring to help students in grades 6-12 with math, from pre-algebra to calculus. Founded by math educators, Hotmath.com provides online, tutorial solutions to the actual homework problems in many popular math textbooks, helping students better learn and retain mathematical concepts.
From now until February 1, 2005, all owners of any TI-83 Plus Family, TI-84 Plus Family, or TI-89 graphing calculator can go to the TI educational website at http://education.ti.com/gift and, after filling out a brief registration form, may select the option to register for a complimentary 60-day subscription to the Hotmath.com tutorial.
"At Hotmath.com, our mission is to provide students with the support they
need to complete their required math homework and achieve better success in
school," said Chuck Grant, president of Hotmath.com. "For those students who
take that first innovative step of using a TI graphing calculator in their
studies, Hotmath.com will provide these students with additional online
assistance to work through tough math problems, to check their work, and to
better prepare for quizzes and tests."
Free SAT Prep Questions
In addition to the free math tutorial offering, owners of TI-83 Plus and TI-84 Plus families of graphing calculators can download TI's new SAT prep questions to their graphing unit, to help guide and prepare them for the new SAT format. These electronic flash cards cover multiple areas of the test with practice questions and answers that students can review on the bus, in the cafeteria or any time they have a few free minutes.
From now until February 1, 2005, all owners of a TI-83 Plus or TI-84 Plus graphing calculator can go to the TI educational website at http://education.ti.com/gift and, after filling out a simple registration form, may select the option for the SAT prep questions. They will then be guided to a new web page that gives simple step-by-step instructions on how to download the free electronic flashcards.
"At TI, we are committed to delivering innovative tools dedicated to
increasing student achievement," said Marcia Page, vice president of Texas
Instruments Educational & Productivity Solutions business. "As the SAT
continues to be a critical test for many college-bound students, we want to
make sure that students are ready for the new test format."
TI Graphing Calculators
The TI-83 Plus and TI-84 Plus families of graphing calculators include
preloaded and downloadable educational programs that provide exciting methods
to engage math and science students in experiencing the benefits of a new and
inspiring level of learning. With more than two million TI graphing
calculators sold annually, these popular educational tools continue the long-
standing TI tradition of motivating more students to achieve success through
the use of innovative technology in the classroom.
For more information on preparing for the new SAT, visit
http://www.collegeboard.com .
*SAT is a registered trademark of the College Board, which was not
involved in the production of and does not endorse any of the products
discussed herein.
About Texas Instruments
Educational & Productivity Solutions, a business of Texas Instruments, is
a market leader in education technology, providing a wide range of advanced
classroom tools that enable students and teachers to interactively explore
math and science. TI's learning tools and services are designed with leading
educators to meet the evolving needs of the classroom. Connecting the
classroom experience with real-world applications, TI's products include a
broad line of handheld technology, computer software and data-collecting
devices. Additionally, TI has worked closely with educators and
administrators for more than 15 years to develop student-focused curricular
and supplemental materials for the classroom, and supports the world's largest
professional development organization focusing on the appropriate use of
educational technology. More information is available at http://www.education.ti.com
Posted by Tom Troceen at 03:46 AM
New state rule: Insurance on damaged homes can't be canceled
Property owners still awaiting repairs from hurricane damage will not have to worry about losing insurance coverage, at least through the end of the year.
An emergency rule passed Tuesday by Gov. Jeb Bush and the state Cabinet prevents insurers from canceling or not renewing policies on damaged homes until 60 days after repairs are completed.
Posted by Tom Troceen at 03:02 AM
IBM to Acquire Liberty Insurance Services
SOMERS, NY -- IBM and RBC Insurance today announced that IBM has agreed to acquire Liberty Insurance Services Corp. (LIS), the U.S. business process services and solutions operations of RBC Insurance. This acquisition will establish IBM as a leader in life insurance and annuity processing and administration, both in North America and globally. Financial terms of the deal, expected to close by December 31, 2004, were not disclosed.
In addition, IBM and RBC Insurance have also agreed to enter into a long-term agreement for IBM to perform key business processes for RBC Insurance's U.S. operations, including contact center management, policy administration, claims management and payment receipt and reconciliation.
Following the acquisition, it is expected that approximately 700 LIS employees will remain and become part of a new subsidiary of IBM. This new IBM organization will focus on delivering life insurance and annuity processing and administration services and will integrate its deep process expertise with IBM's advanced consulting methodologies and emerging technologies, such as real-time process and data integration, enabling IBM to offer real business optimization value to life insurance clients.
RBC Insurance's U.S. operations will remain based in Greenville, SC, where it has over 200 employees. The company also has a presence in Kansas City, MO, and a field force of approximately 400 full-time agents.
"We continue to view the United States as strategically important to the growth of our insurance business," said Jim Westlake, Group Head Personal and Business Clients Canada and Global Insurance for RBC Financial Group. "The acquisition of Liberty Insurance Services Corporation by IBM allows us to focus on our core insurance businesses by leveraging the experience and technology of a leading third party administrator."
Upon closing, the new IBM subsidiary will handle life and annuity policy processing for more than a dozen life insurance companies worldwide. Services offered by this new IBM organization will include contact center management, policy administration and claims processing. In this field, life insurance companies are seeking the ability to manage their portfolio of life insurance and annuity contracts more dynamically, in order to reduce cost, increase flexibility, improve customer satisfaction, and respond to new market opportunities.
"Life insurance processing and managed operations is expected to represent a $2 billion market globally by 2005, and this acquisition, combined with IBM's business consulting and technology skills, significantly expands our business transformation capabilities for insurance providers worldwide," said Katherine Hegmann, General Manager, IBM Global Business Transformation Outsourcing. "This acquisition adds new skills and processing capabilities, significantly strengthening our policy management, claims administration and payment receipt and reconciliation capabilities. These specialized insurance industry services, together with our existing business transformation capabilities for human resources, customer care, finance and administration and procurement, will help clients in the insurance industry derive new business value from an IBM relationship."
"This deal is consistent with RBC Insurance's objective of providing our customers with value and innovative products. We are pleased to establish this business relationship with IBM," Westlake said. "In today's highly competitive environment and quickly evolving financial services market, we need to concentrate resources and attention on our insurance clients to provide them the strongest value proposition possible. IBM is ideally suited to make the necessary investments that will allow LIS to grow in the future, provide our U.S. insurance businesses and its other customers excellent service and, ultimately, to allow LIS to meet its potential."
About IBM Business Consulting Services
With consultants and professional staff in more than 160 countries globally, IBM Business Consulting Services is the world's largest consulting services organization. IBM Business Consulting Services provides clients with business transformation and industry expertise, and the ability to translate that expertise into integrated, responsive, on demand business solutions and services that deliver bottom-line business value. Over the past several years, IBM Business Consulting Services has developed industry-leading transformation consulting skills and delivery capabilities in key areas, including Human Resources, Financial Management, Customer Relationship Management and Procurement. For more information, visit www.ibm.com.
About RBC Insurance
RBC Insurance provides a wide range of creditor, life, health, travel, home, auto and reinsurance products and services to more than five million clients in Canada, the U.S. and internationally. These products and services are offered through a wide variety of distribution channels, including the telephone, independent brokers, travel agents, a proprietary sales force and the Internet. More information is available at www.rbcinsurance.com. RBC Insurance is the insurance division of Royal Bank of Canada. Royal Bank of Canada (TSX: RY) (NYSE: RY) uses the initials RBC as a prefix for its businesses and operating subsidiaries, which operate under the master brand name of RBC Financial Group. Royal Bank of Canada is Canada's largest bank as measured by market capitalization and assets, and is one of North America's leading diversified financial services companies. It provides personal and commercial banking, wealth management services, insurance, corporate and investment banking, and transaction processing services on a global basis. The company employs 60,000 people who serve more than 12 million personal, business and public sector clients through offices in North America and some 30 countries around the world. For more information, please visit www.rbc.com.
FORWARD LOOKING STATEMENTS
This news release includes forward-looking statements that are subject to certain risks and uncertainties. Actual results may differ materially from the results contemplated in these forward-looking statements. Statements regarding the expected date of completion of the transaction are forward-looking statements and subject to the risk that regulatory approvals will not be obtained or that other closing conditions will not be satisfied.
Statements regarding the expected benefits of the transaction are subject to the following risks, among others: that expected benefits will not be achieved; that revenues following the acquisition will be lower than expected; that acquisition transition costs will be greater than expected; the inability to identify, develop and achieve success for new products and services; increased competition; the general economic conditions will be less favorable than expected; and that legislation or regulatory changes adversely affect the insurance business.
Posted by Tom Troceen at 02:56 AM
Swiss Re Hurricane Report Stresses Risk Analysis
Swiss Re's recently issued report on the 2004 hurricane season stresses that, although the number of storms may have been extraordinary, "the impact on insurers has been controllable through a process of event-based risk analysis."
Posted by Tom Troceen at 02:36 AM
November 23, 2004
Wachovia forms reinsurance company
Wachovia Corp. has formed a financial guaranty reinsurance company called BluePoint Re. The company will be based in Bermuda and provide reinsurance services to insurers of structured-finance and municipal debt deals.
Posted by Tom Troceen at 07:18 AM
New Private Label Banking Service for Insurance Companies Launches
InBank offers a turnkey solution to insurance companies seeking to sell banking products through their agent networks and online. Its primary value is in generating large numbers of high-quality CD customers to insurance company offices who become excellent candidates for insurance product cross sales. InBank will also provide branded, transactional banking websites offering a broad range of banking
products to insurance company customers through Affinity Financial Corporation.
"InBank recently closed on a private equity offering which enables us to bring our service to a wide range of insurance companies and markets," James W. Coyne, Chairman and CEO of IB Services, LLC said. "We are very excited about showing these companies how InBank can help them become more competitive and profitable."
Coyne added, "InBank offers an insurance company an alternative to owning a bank." He pointed out that there can be significant benefits for an insurance company selling bank products, but the steep capital costs and many new risks of owning a bank are prohibitive for most. "There are many issues that insurance company owned banks must overcome, not the least of which is running the bank profitably. And very few have achieved this."
Prior to forming IB Services LLC, Coyne was EVP and Chief Operating Officer of an insurance company owned bank, Acacia Federal Savings Bank, where he developed many programs for generating new customers through bank product sales. The billion dollar thrift is one of few successful banks owned by an insurance company.
InBank provides its unique private label banking program to insurance companies through flexible licensing arrangements. Agents are trained to sell bank products to attract new customers, and insurance companies can market bank products to orphan accounts. InBank's relationship with Affinity Financial Corporation assures accurate transaction processing along with repetitive direct mail marketing to banking product customers. Insurance companies gain the benefits of bank product sales under their own identities without the significant capital cost and risks involved in starting or buying a bank.
Posted by Tom Troceen at 07:17 AM
Blacks Demand Equal Justice from New York Life Insurance Company
Outraged over what they call a, "Jim Crow standard for justice," Black descendants of enslaved Africans launched an online campaign against New York Life Insurance Company entitled, "Justice 4 One – Justice 4 All". The campaign raises questions about why, on January 26, 2004, New York Life forced Black descendants of African slavery victims out of court with a class action lawsuit for restitution, and three (3) days later settled a similar case for $20 million with White descendants of Armenian genocide victims. The website is located at: www.justice4one-justice4all.com.
Outraged over what they call a "Jim Crow standard for justice," Black descendants of African slavery victims launched an online campaign against New York Life Insurance Company entitled, "Justice 4 One – Justice 4 All" – at www.justice4one-justice4all.com. The campaign raises questions about why, on January 26, 2004, New York Life forced Blacks out of court with a class action lawsuit for slavery restitution, and three days later settled a similar case for $20 million with White descendants of Armenian genocide victims.
The slavery case was filed against New York Life in May of 2002, and is entitled, In Re: African-American Slave Descendants, CV-02-7764(CRN) (United States District Court, Northern District of Illinois, Eastern Division). Black plaintiffs claimed that New York Life committed a crime against humanity via its early company that wrote life insurance policies enslaving their African ancestors in mid-1800. Slave owners were the beneficiaries.
Over one third of New York Life's first revenue came from writing slave policies. This practice encouraged the employment of enslaved people in ultra-hazardous capacities, like coal mining or constructing railroads, which sometimes resulted in burning and drowning deaths. The website contains a copy of a company policy enslaving an African named Robert Moody who was employed in a Virginia coal pit.
The Armenian genocide case, Marootian v. New York Life Insurance Company, CV-99-12073(CAS),(United States District Court, Central District of California), was filed in November of 1999. The plaintiffs claimed that New York Life wrongfully failed to pay benefits under life insurance policies they issued as far back as the 1870s in the Turkish Ottoman Empire on the lives of their Armenian ancestors. New York Life denies any wrongdoing.
Slave descendants say critical factors in the cases were identical and should have resulted in the same outcome:
- Both cases involved insurance policies from the 19th century;
- Both involved descendants making claims on behalf of themselves and their ancestors; and
- Both cases resulted from some of the worst crimes committed against humans in world history -- the enslavement of Africans, and the genocide of Armenians.
"Race is the key difference in these cases. This looks like discrimination against African-Americans," said Deadria Farmer- Paellmann, Executive Director of the Restitution Study Group -- the New York non-profit sponsoring the campaign.
The slavery case was amended in the Northern District Federal Court in Chicago, Illinois on April 5, 2004. A decision is pending.
Contact:
Deadria Farmer-Paellmann
Phone: 917-365-3007
Posted by Tom Troceen at 07:14 AM
Delphi Financial Comments on Regulatory Inquiries
WILMINGTON, Del., Nov. 22 /PRNewswire-FirstCall/ Monday November 22, 4:15 pm ET-- As part of the ongoing, industry-wide investigations regarding insurance sales practices, the following state regulatory authorities have issued administrative subpoenas or similar requests for information to numerous insurance companies, including insurance subsidiaries of Delphi Financial Group, Inc. : the Illinois Division of Insurance, the New York State Attorney General's Office; and the North Carolina Department of Insurance. Delphi understands that similar inquiries are presently being made by various other regulatory authorities, and anticipates that additional regulatory inquiries may be received by its insurance subsidiaries as the various investigations continue. The Company will fully cooperate with the inquiries it has received to date, as well as any future inquiries of this type.
In connection with, and because it desires to take advantage of, the "safe harbor" provisions of the Private Securities Litigation Reform Act of 1995, Delphi cautions readers regarding certain forward-looking statements in the foregoing discussion and in any other statement made by, or on behalf of, Delphi, whether in future filings with the Securities and Exchange Commission or otherwise. Forward-looking statements are statements not based on historical information and which relate to future operations, strategies, financial results, prospects, outlooks or other developments. Some forward- looking statements may be identified by the use of terms such as "expect," "believe," "anticipate," "outlook," "goal" or other similar expressions. Forward-looking statements are necessarily based upon estimates and assumptions that are inherently subject to significant business, economic, competitive and other uncertainties and contingencies, many of which are beyond Delphi's control and many of which, with respect to future business decisions, are subject to change. Examples of such uncertainties and contingencies include, among other important factors, those affecting the insurance industry generally, such as the economic and interest rate environment, federal and state legislative and regulatory developments, including but not limited to changes in financial services and tax laws and regulations, market pricing and competitive trends relating to insurance products and services, acts of terrorism or war, and the availability and cost of reinsurance, and those relating specifically to Delphi's business, such as the level of its insurance premiums and fee income, the claims experience, persistency and other factors affecting the profitability of its insurance products, the performance of its investment portfolio and changes in Delphi's investment strategy, acquisitions of companies or blocks of business, and ratings by major rating organizations of its insurance subsidiaries. These uncertainties and contingencies can affect actual results and could cause actual results to differ materially from those expressed in any forward- looking statements made by, or on behalf of, Delphi. Delphi disclaims any obligation to update forward-looking information.
Delphi Financial Group, Inc. is an integrated employee benefit services company. Delphi is a leader in managing all aspects of employee absence to enhance the productivity of its clients and provides the related insurance coverages: group life, long-term and short-term disability, excess workers' compensation for self-insured employers, travel accident and dental. Delphi's asset accumulation business emphasizes individual fixed annuity products. Delphi's common stock is listed on the New York Stock Exchange under the symbol DFG and its corporate website address is http://www.delphifin.com.
_______________________
A few hours later the following press release was made
Associated Press
Delphi Financial Receives Subpoenas
Monday November 22, 5:48 pm ET
Delphi Financial Receives Subpoenas, Information Requests As Part of Probe Into Sales Practices
WILMINGTON, Del. (AP) -- Delphi Financial Group Inc. said Monday that it received subpoenas or information requests from regulators in Illinois, New York and North Carolina as part of an industrywide probe into insurance sales practices.
The provider of employee benefits and a variety of insurance products said it plans to cooperate fully with the Illinois Division of Insurance, the New York State Attorney General's Office and the North Carolina Department of Insurance.
Delphi also said it expects similar requests from other regulators as the investigations continue.
Shares closed up 74 cents, or 1.7 percent, at $45.49 on the New York Stock Exchange.
Posted by Tom Troceen at 07:08 AM
Book by former Louisiana insurance commissioner on the shelves
Nearly two years after he served a six-month prison sentence, former Insurance Commissioner Jim Brown has completed a book chronicling the case that put him behind bars -- and continuing to maintain his innocence.
Posted by Tom Troceen at 07:06 AM
Health insurance panel holds first meeting on jockey insurance
A panel formed to review health insurance for jockeys agreed Monday that accidental and disability coverage for riders needs to be increased.
The group, the Jockeys' Medical Insurance Panel, also decided that jockeys are independent contractors, but the issue of jockey medical insurance deserves a solution, even if it is a state-by-state one.
Posted by Tom Troceen at 07:05 AM
Milliman Expert To Address Dilemma of ``True Group Long-Term Care'' at IFEBP Annual Conference in New Orleans; Jonathan Shreve To Offer ``Real World'' Solutions
SEATTLE--(BUSINESS WIRE)--Nov. 22, 2004--In their new book, True Group Long-Term Care, authors Jonathan Shreve, FSA, and Jill Van Den Bos, M.A., identify insufficient funding for long-term care as a looming crisis for all Americans, especially the growing millions of elderly citizens who lack the means to pay for services they will require. Shreve is a principal and Van Den Bos a consultant for Milliman, the international firm of consultants and actuaries. Shreve will lead the long-term care roundtable at the 50th Annual International Foundation of Employee Benefit Plans (IFEBP) Conference in New Orleans, Nov. 30 - Dec. 1, 2004.
Citing a dramatic upswing in the population of aging Americans, the book, published by the IFEBP, takes dead aim at the financial shortfall that bedevils current state and federal programs and threatens emerging plans. The work also examines a variety of innovative solutions, including plans where employers would provide group long-term care plans as an employee benefit.
"If we act now and invest for the future in group long-term care, we can avoid the coming crisis," says author Jonathan Shreve. "Most older Americans are not planning for long-term care, but employers can offer this sustainable safety net for a comparable cost to current dental benefits. This needs to be a national priority," Shreve concluded.
True Group Long-Term Care offers a comprehensive guide for employers, state governments, the insurance industry and nursing homes. It includes:
-- The benefits of sponsoring a group long-term care plan
-- The difference between true group long-term care and voluntary long-term care benefits
-- Advice for designing a successful and cost-efficient plan
-- The use of vesting and waiting periods, employee education & tax implications
-- Funding alternatives to fully-insured plans
-- Risk selection and cost comparisons of various plan designs
Author Jonathan Shreve is a principal in the Denver office of Milliman, where he leads the health practice he founded in 1992. Mr. Shreve has been a long-term care consultant since 1988 and has assisted clients in product design and pricing and in valuing blocks of long-term care business. He is a fellow in the Society of Actuaries and a member of the American Academy of Actuaries.
Co-author Jill Van Den Bos, also located in the Denver office, is a consultant in Milliman's health practice. She joined the firm in 1992 and has been a long-term care consultant for most of that time. Ms. Van Den Bos assists clients in the pricing and design of long-term care policies and has published a number of articles on long-term care and pharmacoeconomics.
Milliman, whose corporate offices are in Seattle, serves the full spectrum of business, financial, government and union organizations. Founded in 1947 as Milliman & Robertson, the company has 32 offices in the United States as well as offices in Bermuda, Hong Kong, London, Madrid, Mexico City, Milan, Sao Paulo, Seoul and Tokyo. Milliman employs approximately 1,800 people, including a professional staff of more than 800 qualified consultants and actuaries. The firm has consulting practices in employee benefits, healthcare, life insurance/financial services, and property & casualty insurance. It is a founding member of Milliman Global, an international organization of consulting firms serving insurance, employee benefits and healthcare clients worldwide. For further information, visit www.milliman.com
Jonathan Shreve will be signing copies of True Group Long-Term Care at the IFEBP Conference on Thursday, December 2nd at 12:15pm in the Registrations Area of Hall 1 at the Morial Convention Center, New Orleans.
For further information, visit the Milliman conference team at booth #601.
To request a review copy of True Group Long-Term Care, please contact jon.shreve@milliman.com or jill.vandenbos@milliman.com or call 303-299-9400. The book can be purchased through the IFEBP by contacting: Erin Schlitz at 262-786-6710, ext. 8462, email: erins@ifebp.org Member's price: $37.00, non-members: $45.00.
Posted by Tom Troceen at 07:03 AM
November 22, 2004
Swiss Re fields regulatory inquiries
Zurich-based Swiss Re said it may receive similar requests from other regulators and government agencies and will cooperate with all inquiries.
Nontraditional insurance -- also known as "loss mitigation" or "finite" insurance and reinsurance -- is purchased by companies looking to protect themselves against the financial impact of future liabilities. The agreements generally have a cap on the losses that they cover.
Posted by Tom Troceen at 03:11 AM
Online Bidding Firms Seek Bounce From Insurance Industry's Bid-Rigging Scanda
Customers in search of cheap airfare, antiques or a stock trade can scan the Web for good deals. But when it comes time for companies to buy group insurance policies, they've largely been beholden to brokers using fax, e-mail and the telephone to track down the best bargain. Some industry analysts say an ongoing insurance bid-rigging scandal -- combined with rising health care costs -- will build demand for online bidding on insurance policies.
"This is really about putting the tools into the hands of decision-makers and returning the broker to the role of a trusted adviser, rather than someone who's just placing the money or making the purchase order for you," said Rebecca Wettemann, vice president of research at Nucleus Research, which advises companies on financial and technology issues.
Posted by Tom Troceen at 03:09 AM
NAIC's Proposed Boost In Budget Surplus Leaves Trade Groups Wondering Why
It only took an hour-long conference call Wednesday for members of the National Association of Insurance Commissioners to answer testimony by insurance trade groups representatives regarding the NAIC's proposed 2005 budget.

At the end of the day, however, some trade group representatives said they were no better informed after the meeting than before. In all, 11 groups submitted testimony at the budget hearing, including the National Association of Mutual Insurance Companies; the American Insurance Association and the Property Casualty Insurers Association of America.

Read the full story

Posted by Tom Troceen at 03:07 AM
Advance Auto tests insurance kiosks here
Tony Rogers, an agent for Nationwide Insurance, came up with an idea while shopping at an Advance Auto Parts store in Roanoke about two years ago. He figured the auto-parts store would be a natural place to sell car insurance and related products. "You've got to go where the people are," Rogers said. He took his suggestion to Roanoke-based Advance Auto, the country's second largest auto-parts retailer.
The chain liked the idea. Four kiosks opened inside Advance Auto stores in the Roanoke area last year, allowing consumers to pay their Nationwide Insurance bills or buy auto, home, life and commercial insurance products.
Posted by Tom Troceen at 03:06 AM
US taxpayers should save pension agency-UAW official
Taxpayers should rescue the agency that backs U.S. corporate pensions by covering its losses from pension failures in the airline and steel industries, a United Auto Workers official said on Friday.
UAW legislative director Alan Reuther estimated it would cost between $20 billion and $40 billion to cover the pension liabilities in the airline and steel industries that the Pension Benefit Guaranty Corp (PBGC) has absorbed or expects to absorb shortly.
Posted by Tom Troceen at 03:04 AM
November 19, 2004
Give It Up for the Great American Smokeout
Last year, nearly 2.3 million Americans quit smoking -- for a day.
And the American Cancer Society is urging smokers to try butting out again -- at least for 24 hours -- on Nov. 18 during the 28th Great American Smokeout.
"The idea of the one-day event is to demonstrate to people that they can at least stop smoking for a day, that it's not impossible," said Tom Glynn, a tobacco-control expert with the cancer society.
The message seems to be reaching people, he added. "Eighteen percent of smokers reported quitting, or at least cutting back, part of that day," Glynn said.
Posted by Tom Troceen at 02:33 AM
Murder charges in slaying of Tampa hurricane insurance adjuster
Charges of murder and of sexual battery were filed Thursday in the Nov. 12 slaying of an insurance adjuster who went to inspect a hurricane-damaged rental home.

Jason M. Funk, 27, the home's tenant, was initially arrested in connection with marijuana found growing at the home and was in jail when the new charges were filed. He was ordered held without bond.
Katrina Anne Froeschle, 25, had been sent to the home on the Hillsborough River to inspect it for Farm Bureau Insurance after the owner reported storm damage to roof.
Posted by Tom Troceen at 02:31 AM
AHIP, The Actuarial Foundation and Society of Actuaries Also Release New Data Book for Consumers
WASHINGTON, Nov. 18 /PRNewswire/ -- America's Health Insurance Plans (AHIP) released today results from a nationwide survey of full-time employees conducted in August 2004 by Ayres, McHenry and Associates. The survey finds public understanding at odds with the most recent data about the likelihood of a disability, the nature of disability, and the resources available when employees experience disability.
Posted by Tom Troceen at 02:29 AM
Quote of the week
"If I had only known, I would have been a locksmith."
                   -Albert Einstein
Posted by Tom Troceen at 02:28 AM
ING to sell life insurance unit for $257 million
Dutch financial services group ING has agreed to sell its Atlanta-based life insurance unit to Jackson National Life, a subsidiary of Prudential plc, for $257 million.
Read the full story
Posted by Tom Troceen at 02:27 AM
FedEx, New York Life Press Bush on Trade as China's Power Grows
U.S. companies such as FedEx Corp. and New York Life Insurance Co. are pleading with President George W. Bush to start discussions on a Pacific Rim free-trade bloc as he heads to this weekend's regional economic summit.
Posted by Tom Troceen at 02:25 AM
CALIFORNIA SUES FIVE IN INSURANCE SCANDALS
A California regulator turned up the heat on the insurance industry yesterday, charging four companies and a broker with allegedly hiding millions of dollars in improper commissions paid out in order to win employee-benefit insurance deals.
The suit — against MetLife Inc., Cigna Corp., Prudential Financial Inc., and UnumProvident Corp. — marks a major expansion of the nationwide probe into the insurance industry.
Posted by Tom Troceen at 02:24 AM
November 18, 2004
St. Paul Travelers launches risk-control Web site
Insurer St. Paul Travelers (NYSE:STA) has debuted a Web site that contains more than 1,400 risk management resources for customers, agents and brokers. Resources include research reports, news on safety topics and detailed safety guides for issues like product liabilty and fire protection.
Posted by Tom Troceen at 02:48 AM
Insurance industry still healthy
China's insurance industry continues to grow as its economy expands. And like the economy, the sector saw ups and downs over the past decades.
The industry's product structure has been under attack recently. Critics say investment-oriented products have taken an unproportionately large part of the industry, which, they claim, will menace the role of guarantees in the insurance industry.
Posted by Tom Troceen at 02:46 AM
Chief actuary for CIGNA
CIGNA Life Insurance New Zealand Ltd has appointed Charles Hett as chief actuary and financial officer.
Hett joins CIGNA after a period working as a consultant and prior to that worked for AMP Life Ltd as actuary for NZ. He will be responsible for directing, developing and supporting actuarial and financial staff as well as providing expert financial and business advice to the CLNZ Senior Management Team.
Hett is a past councillor and has been vice president of the NZ Society of Actuaries.
Content supplied by www.goodreturns.co.nz
Posted by Tom Troceen at 02:39 AM
Australians Face Buffeting From Climate Change
Few people know this better than Tony Coleman, one of the country's top insurance executives.
"Climate change represents a significant threat to our community," said Coleman, chief risk officer and group actuary for Insurance Australia Group. "By increasing the frequency and ferocity of severe weather events, climate change will impact all areas of our lives."
Posted by Tom Troceen at 02:36 AM
November 17, 2004
Norwich Union tells customers to return to state pension
The move follows the Association of British Insurers' change of position to suggest that pension holders should return to the state offering; however Norwich Unions' advice will be marked by a significantly greater degree of gravity.

Norwich Union will "strongly recommend" that its customers return to the state second pension, formerly known as the state earnings related pension scheme, because of the improvements the government has made to the scheme and because of the disincentives the government has added to holding a private policy .
Posted by Tom Troceen at 02:06 AM
S&P scrutinizing finite reinsurance
Finite reinsurance, which is sometimes called nontraditional or loss-mitigation insurance, is purchased by companies looking to protect themselves against financial losses.
The Securities and Exchange Commission and New York Attorney General Eliot Spitzer are investigating whether firms have used the products to improperly smoothing earnings.
Posted by Tom Troceen at 01:54 AM
SEC to investigate Hartford Life
Hartford Life has revealed that the Securities and Exchange Commission (SEC) will look into the firm's possible involvement with 'directed brokerage' although at this stage no court action has been issued against the company.

The move has been prompted by the lawsuit issued against Marsh & McLennan by Spitzer for allegedly engaging in directed brokerage in which Hartford was mentioned as a contributing party.
Posted by Tom Troceen at 01:03 AM
November 16, 2004
Texas Hold 'Em remains popular among Penn State students

Jason Smith (freshman-actuarial science) has been playing poker for three years now and has invested in many books that teach poker tricks and strategies. Smith avidly plays on the Internet, but limits his time playing with other people to about once or twice every two weeks. With his experience, Smith said he can calculate, in his head, the odds of his hand winning and often he comes out of a night of poker with more money than he brought.
Posted by Tom Troceen at 03:10 AM
China to launch first mutual insurance company
The China Insurance Regulatory Commission has given approval to launch a mutual insurance company, which will be the first of its kind in the country. The mutual insurance company will manage the insurance needs of agricultural businesses in the northeast Heilongjiang's grain growing area. Mutual insurance is popular and widely used in foreign countries. Most agricultural insurance in developed countries is mutual insurance. The difference between a mutual insurer and a joint-stock insurer is that mutual insurer owners are also insurance buyers.
Posted by Tom Troceen at 03:05 AM
Federal pension insurer posts record deficit for '04
The government agency that insures the private pensions of 44.4 million workers said Monday that its deficit more than doubled in 2004 to a record $23.3 billion, prompting Republicans and Democrats in Congress to renew calls for action to shore up the system.
The Pension Benefit Guaranty Corp. said that as of Sept. 30, it had $39 billion in assets to cover $62.3 billion in pension liabilities.
Posted by Tom Troceen at 03:03 AM
Congress Probes Insurance Industry Scandal
Congress is examining the scandal rippling through the insurance industry, with its largest brokerage accused of bid rigging and price fixing amid high-level resignations, employee layoffs and guilty pleas by some executives.

New York Attorney General Eliot Spitzer launched an investigation on Oct. 14, the latest in a series of high-profile probes he conducted of key financial industries, including Wall Street investment firms and mutual fund companies.
Posted by Tom Troceen at 03:00 AM
The Credit Score: Are You Ahead or Behind?
"Actuarial studies show that how a person manages his or her financial affairs, which is what an insurance score indicates, is a good predictor of insurance claims," according to the Insurance Information Institute, the D.C.-based industry group. "Statistically, people who have a poor insurance score are more likely to file a claim."
But insurance scoring has been controversial. While insurers say two-thirds of policyholders have a lower premium because of good credit, many consumers and lawmakers are wary. Forty-eight states -- including Maryland and Virginia -- have taken actions that restrict credit scoring in insurance underwriting, such as prohibiting insurance companies from denying coverage or canceling policies based solely on credit information, and requiring insurers to disclose primary factors on which any adverse action is based.
Posted by Tom Troceen at 02:55 AM
Bid-rigging insurance probe widens with 11 Florida subpoenas
Florida Attorney General Charlie Crist has issued subpoenas to 11 insurance companies as part of an ongoing investigation into the business practices of the insurance industry. The subpoenas seek documents and records that involve questionable fee arrangements and possible bid rigging.
Posted by Tom Troceen at 01:55 AM
November 15, 2004
Study Finds Fault With Many Cars' Head Restraints

The study, conducted by the Insurance Institute for Highway Safety and released on Sunday, examined 97 types of head restraints in cars sold in the United States, and concluded that three-fourths of the restraints provided either poor or marginal protection. Only eight restraints earned a rating of good: three in Volvo models, two in Saabs, one in the Jaguar S-Type, one in Volkswagen's New Beetle and one in the Subaru Impreza.
Posted by Tom Troceen at 03:40 AM
State Farm Florida Seeks 5% Statewide Rate Hike In Homeowners Insurance
To help cover the increased costs of doing business in Florida after four hurricanes, State Farm Florida Insurance Co. -- Florida's largest homeowners insurer -- has filed with regulators for a 5% statewide rate increase in homeowners insurance.
Posted by Tom Troceen at 03:34 AM
Insurer Raises Rates For More Than 6,000 Doctors
Medical Mutual is suffering from a surge in malpractice payouts, but it's not clear what's causing the surge, how severe the problem is, or whether Med Mutual's business practices are contributing to it, The (Baltimore) Sun reported Sunday. "Doctors are in a very severe crisis," said David Murray, Med Mutual's chief executive officer. "The legal system is eating them alive."
Posted by Tom Troceen at 03:33 AM
ING Not Launching Islamic Insurance
ING Life has decided against launching Islamic life insurance products - for now.

ING Life says it would have had to have charge quite a high fee to cover the complexity of producing Islamic, or Al-Takaful, products and the cost of putting them in place.

Managing director Naomi Ballantyne says the numbers do not stack up.
Posted by Tom Troceen at 03:31 AM
Joke of the week
An actuary, an underwriter, and an insurance salesperson are riding in a car. The salesperson has his foot on the gas, the underwriter has his foot on the brake, and the actuary is looking out the back window telling them where to go.
Posted by Tom Troceen at 03:30 AM
November 12, 2004
Top 10 Most Unusual Insurance Claims

Pets need health insurance, not only for the most common ailments but also for some of the most extraordinary. To demonstrate that fact, Veterinary Pet Insurance combed through its claims to find the top 10 most unusual claims in the year 2000. Fortunately for these pets, their owners had purchased VPI policies.
Posted by Tom Troceen at 03:57 AM
Quote of the week
"The secret to creativity is knowing how to hide your sources."
                   -Albert Einstein
Posted by Tom Troceen at 03:55 AM
AIG to offer new suite of terrorism insurance products
The portfolio introduces LexBioChem Shield, a new biochemical terrorism endorsement available to customers purchasing property terrorism coverage from the member companies of AIG, either on a property terrorism standalone basis or within a property policy.

"With many new risks and uncertainties emerging since 9/11, businesses nationwide are recognizing the need to protect their organizations against the threat of terrorism," said Kevin Kelley, chairman and CEO of Lexington Insurance Company, a member company of AIG.
Posted by Tom Troceen at 03:53 AM
Allstate pulls back in Florida
Allstate's chief executive, Edward Liddy, told reporters in New York the company lost $1.06 billion as a result of hurricanes Charley, Frances, Ivan and Jeanne hitting the southern United States, the Associated Press reported. Much of the damaged area was covered by the company's Allstate Floridian unit, the AP said.
Liddy said the hurricanes "wiped out all the profits" the unit had made on its Florida policies since Hurricane Andrew hit the state in 1992, according to the AP.
Posted by Tom Troceen at 03:50 AM
Your questions answered on the education redesign
Fall exams have come and gone, and before you know it, 2005 will be here, which is why we're including some of the most frequently asked questions on the exam redesign.
Posted by Tom Troceen at 03:49 AM
Cutter Consortium Adds Enterprise Risk Management and Governance Practice
Cutter Consortium expanded its IT research and advisory services this week with a new Enterprise Risk Management and Governance practice. The service helps IT organizations balance contradictory needs for compliance, profitability and innovation by assessing and managing their total risk spectrum.
Posted by Tom Troceen at 03:46 AM
Drake University Actuarial Science Postion
Position: A tenure track position in actuarial science in the College of Business and Public Administration, to begin August, 2005, pending budget approval. Rank and salary based on qualifications.
Duties: Teach six courses per year; recruit, advise, and place students; conduct scholarly research; and serve the University and the profession.
Qualifications: Ph.D. in actuarial science or a related area along with Associateship or Fellowship in the CAS or SOA is preferred. Candidates with lesser qualifications will be considered if there are compensating factors.
Applications: Submit a curriculum vitae and arrange for three letters of reference to be mailed to Professor Stuart Klugman, F.S.A.; CBPA; Drake University; Des Moines, IA 50311 or e-mailed to stuart.klugman@drake.edu. Applications will be accepted until the position is filled. Drake University is an equal-opportunity employer and actively seeks applicants who reflect the diversity of the nation.
Posted by Tom Troceen at 03:30 AM
November 11, 2004
CAS Fellow Named Top Equities Analyst
ARLINGTON, VA, Nov. 5 – Todd Bault, a Fellow of the Casualty Actuarial Society (CAS), was named the top equities analyst in the non-life insurance sector by Institutional Investor as part of the magazine's 2004 All-America Research Team. Bault moved up to the top spot after earning third team honors in 2003. Institutional Investor's 33rd annual All-America Research Team, unveiled in the October 2004 issue, is based on responses from almost 3,500 portfolio managers and buy-side analysts from nearly 700 institutions who were asked to identify the brokerage firm analysts whose work they found most valuable over the preceding 12 months. The 2004 All-America team includes 334 individual analysts from 18 brokerage firms who specialize in 71 industries or macro research disciplines. Institutional Investor is a monthly magazine that has been providing financial information to institutional investors for 38 years. Of Bault, Institutional Investor notes that the Sanford C. Bernstein analyst's 12 years of experience as an insurance actuary "gives him a particular ability to assess risk, analyze company reserves and profitability, and provide rigorous quantitative valuations." Bault agrees, stating that "my actuarial background is front and center in the research—it's Bernstein's edge." The magazine goes on to note that Bault's "bullish thesis that profits were on the rise after four years of rising prices proved correct. In the year through mid-September, the sector was up 14 percent versus 10 percent for the S&P 500 index." "This is another example that actuarial skills have valuable applications beyond straight pricing and reserving," Bault said. "I hope that members of the CAS continue to make the most of the opportunities to extend our actuarial skills into nontraditional areas." The Casualty Actuarial Society is an organization dedicated to the advancement of the body of knowledge of actuarial science applied to property, casualty and similar risk exposures. The primary goal of the Casualty Actuarial Society is to provide education and research to help its members become leading experts in the evaluation of hazard risk and the integration of hazard risk with strategic, financial and operational risk.
Posted by Tom Troceen at 02:14 PM
Aegon's earnings up; insurer faces fraud probe
Dutch insurer Aegon Inc. reported higher third-quarter earnings Thursday, as scandal rocks the industry. Aegon, whose U.S. headquarters is in Baltimore, reported earnings including realized gains and losses of $548 million, or 36 cents per diluted share. The company reported $521 million, or 33 cents per share, on the same basis a year ago.
Posted by Tom Troceen at 01:26 PM
Allstate.com Named Top Insurance Web Site by Watchfire GomezPro
Recognized for building the industry's most comprehensive online offering, Allstate.com has received the No. 1 Overall Ranking in the Q4 2004 Watchfire(R) GomezPro(TM) Scorecard(TM) survey of insurance carrier Web sites. With this milestone accomplishment, Allstate.com bumped Progressive.com, which held the top spot in the GomezPro Scorecard for over three years.
Posted by Tom Troceen at 01:14 PM
Ding dong Arafat is dead
Yasser Arafat, the Palestinian Liberation Organization leader who failed to destroy the state of Israel, and later failed to make peace with it, died in the early morning of Nov. 11 at a French military hospital in Paris.

In the end, the 75-year-old Muslim, who took up arms against Israel before he was 17, left behind distraught mourners among the Palestinian people, in whose behalf he was a co-winner of the 1994 Nobel Peace Prize. But his failed leadership in recent years, marked by widespread corruption within the Palestinian Authority, left few mourners elsewhere around the world.
Posted by Tom Troceen at 01:12 PM
USAA Cuts Auto Insurance Rates by 12 Percent in Texas
In December, USAA will reduce auto insurance rates by an average of 12 percent for its Texas members. The reduction follows a February 2004 rate cut of 4.5 percent.
USAA is the fifth largest auto insurer in Texas with more than 390,000 auto policy holders.
Henry Viccellio, president of USAA Property and Casualty Insurance Group, attributes the lower rates to:
USAA's operating costs that are lower than industry average,
Senate Bill 14, which encourages a more competitive insurance market.
Viccellio commends Insurance Commissioner Jose Montemayor, along with members of the state administration and elected officials for their work to implement Senate Bill 14. The legislature passed Senate Bill 14 last year. Elements of the law are now taking effect.
Posted by Tom Troceen at 01:09 PM
November 10, 2004
Former Renowned Actuary Launches Stock Pick and Stock Research Website
A new site on the World Wide Web provides Top 6, Top 30 stock picks and research on 800 companies. Halvorson Research Associates, LLC has launched HRAstockpicks.com where subscribers will have access to a Tiny Portfolio of 6 stocks and a Favorite 30 stock pick portfolio along with definite BUY, SELL, HOLD recommendations on 800 companies.
Posted by Tom Troceen at 03:58 AM
Investigators look into loans disguised as insurance to boost balance sheets of customers
Citing people familiar with the matter, the Journal said the Securities and Exchange Commission is conducting an industry-wide investigation into whether insurers helped customers improperly smooth their earnings by selling them financial-engineering products designed to look like insurance but were really loans.
According to the article, the SEC is centering its probe on a host of products that achieve certain results for companies' financial statements, instead of traditional insurance.
Posted by Tom Troceen at 03:56 AM
California insurance commissioner OKs Anthem-WellPoint merger
The state's insurance commissioner gave his blessing Tuesday to a $16.4 billion merger that would create the nation's largest health insurance company after saying he had wrung hundreds of millions of dollars out of the companies involved that would be used to improve health care for all Californians.
Posted by Tom Troceen at 03:54 AM
November 09, 2004
Exam 1 To Become a Computer-Based Test in 2005
In May 2005, Exam 1 will be offered in the traditional pencil-and-paper format. It is anticipated that in September 2005, Exam 1 will be offered by computer-based testing (CBT) during a period of about one week. Grades will be released in the traditional manner—passing candidate numbers will be posted online and an official grade report will be mailed to each candidate.
Posted by Tom Troceen at 02:14 PM
Updated Syllabus
Get all of the latest info on the 2005 CAS syllabus here
Posted by Tom Troceen at 02:12 PM
Fla. AG Launches Widespread Anti-Trust Probe, 10 Subpoenas Issued
Florida Attorney General Charlie Crist has issued subpoenas seeking documents and records from 10 firms and anticipates sending six more subpoenas out next week as insurance industry investigations widen.
Crist is investigating arrangements between insurers and brokers commercial group accounts for property and casualty insurance, life and health policies. The investigation stems from a complaint from a Florida resident approximately two weeks ago.
Posted by Tom Troceen at 02:09 PM
Insurance chief warns of Spitzer investigation 'global impact'
New York attorney general Eliot Spitzer's probe into practices in the insurance industry will have an effect well beyond America, Aon chairman and chief executive Patrick Ryan predicted yesterday.
Mr Ryan told an Association of Lloyd's Members conference in London that the issue was "much bigger than a US and UK issue. It is a worldwide issue". Asked about Mr Spitzer, Mr Ryan said: "He's done some very good things. It is not a happy day for our industry but a good thing.
Read the full story
Posted by Tom Troceen at 02:04 PM
U.S. workers may pick Catholic insurance
Federal employees in parts of Illinois, not including Chicago, Monday received the option of enrolling in a Catholic-run health-insurance plan that does not cover abortion, contraceptives or fertility treatment.
Enrollment opened Monday for the plan, which officials said was the first of its kind to be offered to federal workers.
Posted by Tom Troceen at 02:02 PM
Burning of fossil fuels threatens to overwhelm Arctic environment
The burning of fossil fuels has contributed to warming in the Arctic that is much faster and more dramatic than scientists previously believed at nearly twice the rate of the rest of the world, a new international report concludes.
Melting sea ice and thawing permafrost is rapidly altering the Arctic environment. The changes could drive seals, polar bears and other animals toward extinction, said the report issued yesterday.
Posted by Tom Troceen at 02:00 PM
9-11 victims got $38.1 billion, insurers were biggest payers
Victims of the Sept. 11 attacks received $38.1 billion in compensation, with insurance companies picking up the largest portion of the tab, according to a study released Monday.

The report by Rand Institute for Civil Justice found that civilians killed or injured have received an average of $3.1 million per person from the government, charities and insurance companies, or $8.7 billion.
Posted by Tom Troceen at 01:58 PM
Bush Calls for Tort Reform, Urges Cooperation With Democrats in Radio Address
President Bush on Saturday in his weekly radio address promised to work with Democrats on domestic issues such as medical liability reform, an issue the president highlighted in his re-election campaign, the AP/Albany Times Union reports. Bush said, "We must confront the junk and frivolous lawsuits that are driving up the cost of health care and hurting doctors and patients." He added, "Americans are expecting bipartisan efforts and results.
Read the full story
Posted by Tom Troceen at 01:55 PM
Marsh to lay off 3,000 in wake of insurance probe
Embattled insurance brokerage Marsh & McLennan Companies Inc. said Tuesday that it will lay off 3,000 employees, or about 5 percent of its work force, as it struggles to deal with the fallout from a bid-rigging probe by New York Attorney General Eliot Spitzer.
Read the full story
Posted by Tom Troceen at 01:54 PM
November 05, 2004
Gallagher Assigns Taskforce to Investigate Florida Insurance Transactions

A task force has been established by Florida Chief Financial Officer Tom Gallagher in an effort to determine whether activities uncovered by New York Attorney General Elliot Spitzer exist in Florida.
The establishment of the task force is the second step, following the establishment of a preliminary review by department attorneys. Its goal is to investigate whether or not such activities have been done in transactions by brokers and insurance companies in Florida.
Read the full story
Posted by Tom Troceen at 03:39 AM
Quote of the week
"A person starts to live when he can live outside himself."
                   -Albert Einstein
Posted by Tom Troceen at 03:37 AM
Healthy Adults Can Split Vaccine, Study Finds
Splitting the flu vaccine might be a way to protect healthy adults, researchers find.
Is it possible for one dose to protect 5 healthy adults from getting the flu? Yes, according to studies in this week's New England Journal of Medicine.
Read the full story
Posted by Tom Troceen at 03:35 AM
Fat fliers costing airlines more in fuel, study says
American airline passengers are carrying excess weight in more than just their luggage. A new government study says airlines are worrying more and more about the weight of the people flying.
Read the full story
Posted by Tom Troceen at 03:33 AM
AIG to offer new suite of terrorism insurance products
The portfolio introduces LexBioChem Shield, a new biochemical terrorism endorsement available to customers purchasing property terrorism coverage from the member companies of AIG, either on a property terrorism standalone basis or within a property policy.

"With many new risks and uncertainties emerging since 9/11, businesses nationwide are recognizing the need to protect their organizations against the threat of terrorism," said Kevin Kelley, chairman and CEO of Lexington Insurance Company, a member company of AIG.
Read the full story
Posted by Tom Troceen at 03:32 AM
U.S. buying 75 mil doses of new anthrax vaccine
The government said Thursday that it is purchasing 75 million doses of a new-generation anthrax vaccine under an $877.5 million contract, the first awarded through a federal program to develop and stockpile antidotes to biological and chemical weapons.
Read the full story
Posted by Tom Troceen at 03:31 AM
Stocks Finish with Strong Gains
Stocks jumped on Thursday, Spurred by lower oil prices and momentum from Wednesday's rally on Bush's decisive victory in the presidential election.
The Dow Jones industrial average climbed 177.71 points, or 1.75%, to finish at 10,314.76. The broader Standard & Poor's 500 index shot up 18.47 points, or 1.62%, to 1,161.67. The Nasdaq composite index rose 19.3 points, or 0.96%, to 2,023.63.
Read the full story
Posted by Tom Troceen at 03:30 AM
Hope for the hooked after scientists find nicotine gene
A single gene could be responsible for determining how easily people become addicted to smoking, according to a report published today.
By tweaking a gene in the brains of mice, US researchers were able to create a hypersensitive breed that becomes hooked at a nicotine level 50 times lower than that found in a typical smoker's blood.Once addicted, the mice show the classic signs of nicotine dependence.
Read the full story
Posted by Tom Troceen at 03:29 AM
Insurance Executives Fired in Bid Probe
Companies caught up in New York state Attorney General Eliot L. Spitzer's investigation into rigged bids and kickbacks in the insurance industry began firing and suspending executives charged with or suspected of involvement in the alleged wrongdoing.
Read the full story
Posted by Tom Troceen at 03:27 AM
November 04, 2004
European Winters Could Disappear by 2080 - Report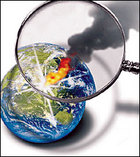 "This report pulls together a wealth of evidence that climate change is already happening and having widespread impacts, many of them with substantial economic costs, on people and ecosystems in Europe," EEA executive director Jacqueline McGlade said in a statement.
The average number of climate-related disasters per year doubled over the 1990s compared to the previous decade, costing economies around $11 billion a year, said the report, the first by the European Union body on the impact of global warming on Europe.
Posted by Tom Troceen at 01:10 AM
Tort reformers encouraged by election outcome
Tort reform advocates say that Tuesday's elections will enhance their efforts in the next Congress.
Two ardent Senate opponents of tort reform—Sens. Ernest Hollings, D-S.C. and John Edwards, D-N.C. —chose not to seek re-election, while another—Senate Minority Leader Tom Daschle, D-S.D. —was defeated. All were replaced by Republicans thought to be more amenable to tort reform.
Posted by Tom Troceen at 01:06 AM
Tapping Your 401(k) with Plastic
Tapping into your 401(k) funds could soon become as easy as slapping down some plastic at the checkout. A controversial plan to create a kind of 401(k) credit card -- you would use it like ordinary plastic, but the money would come out of your 401(k) account in the form of a loan -- is gaining some momentum.
Posted by Tom Troceen at 01:05 AM
November 03, 2004
Hurricanes battered property insurers
The property insurance industry sustained record third-quarter losses this year after a series of storms, including a string of hurricanes, according to an actuarial firm's preliminary estimate.
Eight catastrophes, including hurricanes Charley, Frances, Ivan and Jeanne, contributed to $21.3 billion in insured property-loss claims, according to New Jersey-based Insurance Services Office Inc. That figure compares with $3.7 billion from last year's third quarter, $715 million in the third-quarter 2002 and $19.15 billion in the third-quarter 2001 — the previous record, which included $18.8 billion in insured property losses from the September 11 terrorist attacks.
Posted by Tom Troceen at 04:15 AM
U.S. stock futures rise as Bush gains ground
U.S. stock futures accelerated gains after television networks projected that Republican incumbent George W. Bush had won the key state of Ohio in the presidential race, pushing him to the verge of re-election.
Posted by Tom Troceen at 04:14 AM
Fitch: How Technology Affects Insurers' Ratings
Insurance companies that have learned to use technology to become information users rather than information gatherers have a decisive competitive advantage over their peers. But few insurance companies have "turned that corner."
Posted by Tom Troceen at 04:13 AM
Insurers Post Record Catastrophe Losses In Q3
U.S. property and casualty insurers suffered record catastrophe losses in the third quarter after multiple hurricanes battered Florida, the Insurance Services Office said Tuesday. A total of eight catastrophes hit the U.S. and Puerto Rico in the third quarter costing insurers $21.3 billion, said ISO, which crunches claims data for the industry. Hurricanes Charley, Frances, Ivan and Jeanne accounted for $20.5 billion of the total, ISO added.
Posted by Tom Troceen at 04:12 AM
Prudential's Net Doubles on Pensions, Life Insurance
Prudential Financial Inc., the third- biggest U.S. life insurer, said quarterly profit more than doubled as it earned more from retirement-savings services and individual life insurance.
Third-quarter net income climbed to $728 million from $297 million a year earlier, the Newark, New Jersey-based company said in a statement. Excluding results from policies sold before it became a public company in 2001, profit rose to $548 million, or $1.08 a share, from $220 million, or 44 cents a year ago.
Posted by Tom Troceen at 04:10 AM
Arctic warming at twice global rate
Global warming in the Arctic is happening now, warns the most comprehensive scientific report to date. The reports concludes that the northern ice cap is warming at twice the global rate and that this will lead to serious consequences for the planet.
Posted by Tom Troceen at 04:09 AM
Flu vaccination linked to decreased mortality
A study shows that yearly vaccination against influenza results in lower mortality among older people.
Have you had your flu jab yet? If not - and you're eligible - do make the time, because new research shows the benefit of doing so. Doctors at the Erasmus Medical Center in The Netherlands looked at vaccination and death rates among over 26,000 people aged 65 or more.
Posted by Tom Troceen at 04:07 AM
November 02, 2004
Workers' comp insurer seeks $86.25M in IPO

SeaBright Insurance Holdings Inc., a Seattle-based provider of workers' compensation insurance for selected industries, has proposed raising $86.25 million in an initial public offering, according to a filing Monday with the Securities and Exchange Commission.
Posted by Tom Troceen at 01:44 AM
PIAA Takes Stand Against Hunter's Med-Mal Claims
Actuary J. Robert Hunter has reportedly published another bogus analysis of the medical malpractice insurance industry, once again using one of his front groups, Americans for Insurance Reform (AIR), as the messenger.
Posted by Tom Troceen at 01:40 AM
Norwich Union life insurance pulls out of whole-of-life market
The Financial Services Authority (FSA) has warned consumers to be cautious about rushing into signing up for whole-of-life insurance policies after seeing a surge in complaints from customers who were mis-sold policies.
Financial ombudsman Walter Merricks, received 5,442 complaints about mis-sold policies last year, with consumers winning compensation in around half the disputes, the Sunday Herald newspaper reports.
Posted by Tom Troceen at 01:38 AM
Spitzer: Industry Fights Back
The insurance industry's fightback against the investigations of New York attorney-general Eliot Spitzer is continuing and a prominent regulator has joined in.
At last week's Property Casualty Insurers Association of America (PCI) conference several speakers, including the organisation's newly-appointed chief executive Ernst Csiszar, described the investigation, which is looking at possible impropriety in the broker/ underwriter relationship, as a distraction.
Posted by Tom Troceen at 01:37 AM
Insurer To Bring 500 Jobs To Tampa Area
An automobile insurance company's success in Florida will result in the creation of 500 jobs, as it opens a regional headquarters in the Clearwater area.
Mercury Insurance Group, with 200,000 auto insurance customers in Florida, has paid $25 million for a 165,000- square-foot facility at 1901 Ulmerton Road. The company had leased two floors in the eight-story facility, but plans to take over the entire building as the staff grows.
Posted by Tom Troceen at 01:35 AM
Surge in British asbestos claims will cost billions
A surge in asbestos-related claims over the coming decades could land British insurers and employers with a bill of up to £20bn, according to research by actuaries published yesterday.
The study nails the myth that asbestos is "yesterday's problem" with its prediction that as many as 200,000 new insurance claims from British workers who were exposed to the deadly mineral are expected over the next 30 years or so.
Posted by Tom Troceen at 01:33 AM
November 01, 2004
Spying Scandal Plagues Marsh

The new boss of ailing insurance giant Marsh & McLennan is facing questions about what he knew of an alleged spying scandal at the subsidiary he ran, which has led to two senior executives and three other staff being arrested.
Michael Cherkasky took over as chief executive of the group on Tuesday after previous chief Jeffrey Greenberg resigned in the wake of the investigation into allegations of price-fixing and corruption.
Posted by Tom Troceen at 02:50 AM
What happens when you can't count past four?
'Some Americans I have spoken with (who were otherwise of quick and rational parts enough) could not, as we do, by any means count to 1,000; nor had any distinct idea of that number," wrote the English philosopher John Locke in 1690.
He was referring to the Tououpinambos, a tribe from the Brazilian jungle, whose language lacked names for numbers above five. Locke's point was that number names "conduce to well-reckoning" by enabling us to keep in mind distinct numbers, and can be helpful in learning to count and to calculate, but they are not necessary for the possession of numerical ideas.
Posted by Tom Troceen at 02:39 AM
Insurer Prudential upbeat on Asian prospects
LONDON, Nov 1 (Reuters) - Britain's second-largest listed insurer, Prudential Plc, said on Monday it was confident of achieving long-term profitable growth in Asia, as it began an analyst meeting in the region.
"Prudential will reiterate that it remains confident that the profitable growth being delivered in Asia is sustainable over the long-term and that the business remains on track to return cash to the group from 2006," it said in a statement.
The company is hosting a 4-day analyst meeting in Malaysia and Vietnam, to update investors on its Asian operations.
Posted by Tom Troceen at 02:37 AM
Spitzer may file fraud charges vs Aon soon-NY Times
New York Attorney General Eliot Spitzer's office has grounds to file civil fraud accusations against Aon Corp., the world's second-largest insurance brokerage, and may do so within the next two weeks, The New York Times said on Sunday.
Citing a person close to the inquiry, Aon initially resisted cooperating with Spitzer, but recently became more accommodating, the report said.
Posted by Tom Troceen at 02:35 AM
Joke of the week
Q: How do you tell the difference between an actuary and the deceased person at a funeral?
A: The deceased has a new tie.
Posted by Tom Troceen at 02:33 AM