« July 2005 | Main | September 2005 »
August 31, 2005
Nationwide to Limit Property Exposure in Florida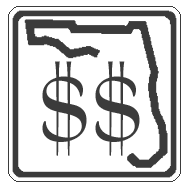 Approximately 39,800 personal lines property policies and 12,000 commercial property policies to be affected
The Nationwide Mutual Insurance Company announced today that it is taking steps to reduce its property exposure in the state of Florida. After these reductions, Nationwide will continue to serve more than 570,000 total policies in Florida, including 240,000 homeowner policies. Nationwide will continue to service these policies and increase its focus on auto lines, commercial casualty lines, and financial services offerings.
"As we continue to analyze our business strategy, it has become increasingly apparent that we are not comfortable with our current exposure in the Florida property market. While these are difficult decisions, we have an obligation to act in a responsible and thoughtful manner to ensure long-term stability for Nationwide policyholders in Florida and across the country," said Jeff Rommel, regional vice president of Florida Operations. "These efforts will not impact Nationwide policyholders in Florida this hurricane season."
Nationwide will reduce its personal and commercial lines exposure in Florida by taking the following actions:



     - Nationwide Insurance Company of Florida will not renew approximately

       35,000 homeowners and 4,800 mobile home policies beginning March 1,

       2006.  Nationwide will continue to serve over 240,000 personal lines

       property policies after these reductions are implemented.

     - Nationwide Insurance Company of Florida will no longer write mobile

       home policies or new personal property policies beginning September 1,

       2005.

     - Nationwide Insurance will also not renew approximately 12,000

       commercial policies primarily consisting of condominiums, apartments,

       and rental properties beginning March 1, 2006.


Nationwide will work with agents to move impacted policies to other property carriers over the next several months.
"Our agents know the needs of our policyholders better than anyone," Rommel said. "In these specific circumstances, we feel a responsible course of action is to allow our agents to work with their customers individually to identify other coverage options."
Posted by Tom Troceen at 04:19 PM
August 29, 2005
Health Charities Ask Hennepin County Board to Measure Economic Impact of Secondhand Smoke Law on Entire Community, Not Just Bars and Restaurants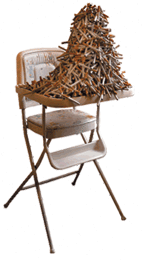 The leaders of three of Minnesota's most prominent health improvement non-profit organizations today urged the Hennepin County Board to add community health impact to its planned review of the County's new secondhand smoke.
Last month, the Hennepin County Board called for a study of the new secondhand smoke law, focusing on changes in restaurant and bar sales since the law went into effect March 31, 2005. In a letter delivered to Hennepin County Board members today, leaders of local chapters of the American Cancer Society (ACS), American Lung Association (ALA), and American Heart Association (AHA) asked that additional economic and public health data be gathered to measure the impacts on the entire community, not just bar and restaurant owners.
The health leaders urged the Board to consider the impact the law will have on other economic issues, such as worker absenteeism and retention, facility maintenance costs, and employee and employer health care costs. They point to a detailed analysis released last week by the national Society of Actuaries (SOA), which found that direct medical costs and indirect costs, such as lost wages and costs related to disabilities, amount to nearly $10 billion every year. The Board study, as originally discussed, would not include any broader economic impacts considered by the Society of Actuaries. A link to the entire SOA report can be found here: http://www.soa.org/ccm/content/areas-of-practice/life- insurance/research/economic-effects-of-environmental-tobacco-smoke-SOA/
"The Board represents all citizens," said Peggy Drenckhahn, executive director of American Lung Association of Minnesota. "Therefore, it only makes sense to consider the costs that all citizens bear from secondhand smoke, not just the costs to bar and restaurant owners."
Beyond economic impacts, the health leaders also urged Board members to consider health impacts of the protections. Specifically, the letter urged Commissioners to consider three health-related questions: 1) Has the law successfully removed lethal toxins and carcinogens from Hennepin County restaurants and bars? 2) What will be the long- and short-term public preventative health impacts of removing these pollutants from restaurants and bars? 3) If the law is rolled back, what will be the health impact on people who have heart diseases, asthma, bronchitis, or are pregnant?
"When this issue was originally debated, health improvement was the primary reason our leaders gave for their support," said Shannon Guernsey, advocacy manager, American Cancer Society, Midwest Division. "That issue is every bit as important today as it was the day the original vote was taken, and this analysis need to reflect that fact."
The letter comes as Hennepin County staff are in the process of designing the analysis that will ultimately be presented to the Board. It is not yet known when the study will be presented to the Board.
"To make balanced decisions, the Board needs balanced information," said Peter Ries, vice president, Twin Cities Metro American Heart Association. "If the study only includes bar and restaurant sales, it effectively says they are more important than the general public. We want the Board to consider all of the impacts of the law, not just one."
AHA, ALA and ACS are part of a broad coalition of community organizations supporting secondhand smoke protections in Minnesota. The coalition is backed by 73 percent of Hennepin County residents who, according to a recent survey conducted by the Melman Group, favor the ordinance.
Posted by Tom Troceen at 04:46 PM
Business profile: Actually, this actuary is far from being dull
Kate Rankine finds Donald Duval's too busy booting the Pension Regulator to look at his shoes
How can you tell an extrovert actuary (as the old joke goes)? He's the one who looks at your shoes when he's talking to you instead of his own.
Donald Duval, 47, manages to look me in the eye - once or twice - which must put him off the actuarial charts. In fact, it's only his long, bushy beard that is slightly off-putting, though perhaps that's just me.
Apparently his wife, Nancy, has threatened divorce if he ever shaves it off. "When I go to a Black Tie dinner, I wonder whether I should bother with a bow tie," he teases. "No one can see it."
Then he adds: "I can't drink a cappuccino unless I have a napkin handy."
His beard has become his trade mark in an industry notorious for its dullness. "Do I think there are people far more interesting than me? Yes," ponders the man, known as "The Don" because of the initials MA FIA on his business card. "I read mathematics at Cambridge and so qualified as a Master of Arts before becoming a Fellow of the Institute of Actuaries," he explains.
Continue reading "Business profile: Actually, this actuary is far from being dull"
Posted by Tom Troceen at 04:42 PM
August 15, 2005
Limp Bizkit Insurer Denies It's Liable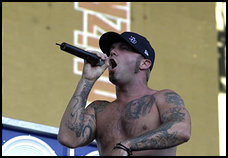 An insurance company that issued a policy for rock band Limp Bizkit is asking a judge to rule it has no liability for any damages awarded as the result of a teenage fan's death at a 2001 concert.
According to a lawsuit filed by Diamond State Insurance Co., Jessica Michalik, 16, died after being trampled by fans at the "Big Day Out" festival in Australia on Jan. 26, 2001.
Continue reading "Limp Bizkit Insurer Denies It's Liable"
Posted by Tom Troceen at 06:09 PM
Credit-Based Insurance Scoring - Does Your Credit History Determine Your Insurance Rate?
The goal of every insurance company is to correlate rates for insurance policies as closely as possible with the actual cost of claims. If insurers set rates too high they will lose market share to competitors who have more accurately matched rates to expected costs. If they set rates too low they will lose money. This continuous search for accuracy is good for consumers as well as insurance companies. The majority of consumers benefit because they are not subsidizing people who are worse insurance risks — people who are more likely to file claims than they are.
The computerization of data has brought more accuracy, speed and efficiency to businesses of all kinds. In the insurance arena, credit information has been used for decades to help underwriters decide whether to accept or reject applications for insurance. Now advances in information technology have led to the development of insurance scores, which enable insurers to better assess the risk of future claims.
An insurance score is a numerical ranking based on a person's credit history. Actuarial studies show that how a person manages his or her financial affairs, which is what an insurance score indicates, is a good predictor of insurance claims. Insurance scores are used to help insurers differentiate between lower and higher insurance risks and thus charge a premium equal to the risk they are assuming. Statistically, people who have a poor insurance score are more likely to file a claim.
Insurance scores do not include data on race or income because insurers do not collect this information from applicants for insurance.
Posted by Tom Troceen at 06:07 PM
Life insurance industry in India grows 21pc in q1, pvt. companies corner 25pc
NEW DELHI: Life insurance industry grew by 21 per cent with LIC and 13 private players mopping up Rs 4,437 crore in the first three lean months of 2005-06.
Private players expanded business by 73 per cent while state-owned life insurance corporation grew by 10.2 per cent. Fuelled by aggressive growth, the private players have now cornered over 25 per cent of the life insurance market till June 2005 compared to 17.61 per cent a year ago in terms of premium income from fresh businesses, as per data released by regulator IRDA.
LIC continues to shed ground as its market share came down to 74.87 per cent till June 2005 as against 82.39 per cent during the corresponding period last year.
LIC mopped up Rs 3,322 crore in premium income during April-June this fiscal by selling 33.86 lakh policies.
Continue reading "Life insurance industry in India grows 21pc in q1, pvt. companies corner 25pc"
Posted by Tom Troceen at 06:04 PM
August 03, 2005
SOA Board Approves Major Expansion of Image Campaign, Development of ERM Credential Prototype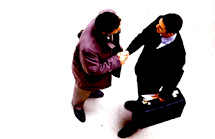 At its June 17-18 meeting the Society of Actuaries (SOA) Board of Governors agreed to expand the scope and intensity of the marketing campaign for the actuarial profession. The newly approved marketing and market development plan will aggressively promote and support actuaries in insurance, employee benefits, and the broader financial services sector. The Board also approved the development of a prototype Enterprise Risk Management (ERM) credential and the creation of a new member benefit: an online journal of actuarial practice and technique.
"Our new marketing plan (formerly called the 'image campaign') will provide benefits for the entire profession," said SOA President Steve Kellison, noting that the newly approved plan focuses on the traditional markets of insurance and benefits as well as the broader financial services market.
"Our 2002 member survey revealed that image building, preservation of the credential's value, and helping members compete in the broader financial services market were important priorities, he added, "and our 2005 survey confirmed that those priorities are just as important today—if not more so."
Enterprise Risk Management Credential Prototype
"Taking a leadership position on enterprise risk management" was rated the leading strategic priority in the 2005 SOA member survey. Aggressively pursuing the goals of the joint CAS-SOA ERM strategy approved in February, the Board directed the Knowledge Management Strategic Action Team to develop a prototype of an ERM credential for consideration in November 2005.
"The purpose of this credential would be to enable actuaries to more effectively compete for risk management positions in both traditional and broader financial services markets—while enhancing the value of the FSA," said SOA President Elect Bob Beuerlein. He added that member input would be sought.
New member benefit created—The Actuarial Practice Forum
In response to member requests for a publication that would focus on actuarial practice and techniques, the Board approved the introduction of a new, online resource called the Actuarial Practice Forum. This new online "publication" will provide a cost-effective new benefit and complement the original research published in the North American Actuarial Journal.
This new online publication is scheduled to debut in early 2006.
Morris Review awareness program initiated
The Board acted on a SOA task force recommendation to initiate a program to increase member awareness of the implications of the Morris Review on the North American profession. The Morris Review was a broad--and ultimately critical--examination of the UK actuarial profession. The board-appointed task force developed a series of recommendations, including awareness building, to help the SOA better understand and mitigate potential impacts on the North American profession in the areas of education and research.
Need for broader dialogue with U.S. actuarial organizations affirmed
The Board committed to initiating new dialogue and discussion with leaders of other U.S. actuarial organizations on how to advance the interests of the profession through more efficient and effective use of its limited resources in light of the multiple U.S. actuarial organizations.
Posted by Tom Troceen at 12:19 PM