« House Panel Urges Talks On Terrorism Insurance | Main | Life insurance industry in India grows 21pc in q1, pvt. companies corner 25pc »
August 03, 2005
SOA Board Approves Major Expansion of Image Campaign, Development of ERM Credential Prototype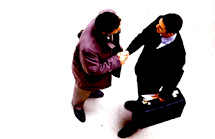 At its June 17-18 meeting the Society of Actuaries (SOA) Board of Governors agreed to expand the scope and intensity of the marketing campaign for the actuarial profession. The newly approved marketing and market development plan will aggressively promote and support actuaries in insurance, employee benefits, and the broader financial services sector. The Board also approved the development of a prototype Enterprise Risk Management (ERM) credential and the creation of a new member benefit: an online journal of actuarial practice and technique.
"Our new marketing plan (formerly called the 'image campaign') will provide benefits for the entire profession," said SOA President Steve Kellison, noting that the newly approved plan focuses on the traditional markets of insurance and benefits as well as the broader financial services market.
"Our 2002 member survey revealed that image building, preservation of the credential's value, and helping members compete in the broader financial services market were important priorities, he added, "and our 2005 survey confirmed that those priorities are just as important today—if not more so."
Enterprise Risk Management Credential Prototype
"Taking a leadership position on enterprise risk management" was rated the leading strategic priority in the 2005 SOA member survey. Aggressively pursuing the goals of the joint CAS-SOA ERM strategy approved in February, the Board directed the Knowledge Management Strategic Action Team to develop a prototype of an ERM credential for consideration in November 2005.
"The purpose of this credential would be to enable actuaries to more effectively compete for risk management positions in both traditional and broader financial services markets—while enhancing the value of the FSA," said SOA President Elect Bob Beuerlein. He added that member input would be sought.
New member benefit created—The Actuarial Practice Forum
In response to member requests for a publication that would focus on actuarial practice and techniques, the Board approved the introduction of a new, online resource called the Actuarial Practice Forum. This new online "publication" will provide a cost-effective new benefit and complement the original research published in the North American Actuarial Journal.
This new online publication is scheduled to debut in early 2006.
Morris Review awareness program initiated
The Board acted on a SOA task force recommendation to initiate a program to increase member awareness of the implications of the Morris Review on the North American profession. The Morris Review was a broad--and ultimately critical--examination of the UK actuarial profession. The board-appointed task force developed a series of recommendations, including awareness building, to help the SOA better understand and mitigate potential impacts on the North American profession in the areas of education and research.
Need for broader dialogue with U.S. actuarial organizations affirmed
The Board committed to initiating new dialogue and discussion with leaders of other U.S. actuarial organizations on how to advance the interests of the profession through more efficient and effective use of its limited resources in light of the multiple U.S. actuarial organizations.
Posted by Tom Troceen