« February 2005 | Main | April 2005 »
March 29, 2005
AIG Chairman Greenberg to Retire As Regulators Probe Questionable Transactions During His Tenure
Maurice "Hank" Greenberg will retire this week as chairman of American International Group Inc., ending a four-decade career with the insurance company as regulators investigate questionable financial transactions that occurred during his tenure.
In a letter sent through his attorney, Greenberg told AIG directors Monday that he would retire when he returns from a trip to Asia and Europe, and won't stand for election as a director when his term expires in May.
The company released the letter late Monday and said lead director Frank G. Zarb would assume the duties of chairman until a new one is selected.
"In order to lead meaningful changes in the industry and at AIG, the company and its officers and directors must resolve any outstanding questions or issues and move forward," according to the letter from Greenberg's attorney, David Boies, to Richard Beattie, who represents AIG's independent directors. "To that end, Mr. Greenberg recognizes the need to promptly and cooperatively resolve all inquiries and investigations by regulators and other authorities."
Greenberg had been at the company's helm for nearly four decades and was a prominent and influential member of the global insurance industry.
There had been widespread speculation about how long New York-based AIG would continue its relationship with Greenberg, as investigations by the Securities and Exchange Commission and New York State Attorney General Eliot Spitzer have intensified in recent weeks.
Greenberg, 79, was replaced as chief executive two weeks ago -- though retained as chairman -- as scrutiny mounted over a 2000 transaction that appeared to have been used to boost the company's reserves artificially.
The separation between Greenberg and the company he built comes as the SEC has sent subpoenas to a dozen AIG executives. A source told The Associated Press, speaking on condition of anonymity and confirming a report Monday in the Journal, that federal investigators know of 10 transactions that warrant review.
In a statement e-mailed to reporters late Monday, Spitzer praised AIG board's for making "difficult decisions."
"While there is a long way to go before this investigation is complete, the wise actions of the AIG board will help set this investigation on a path toward resolution," Spitzer said. "I commend the AIG board for acting in a way that sets it apart from other boards that have faced similar problems in recent years."
Greenberg is scheduled to give a deposition to Spitzer on April 12.
Under investigation are a number of reinsurance transactions -- insurance purchased by insurance companies -- that regulators contend were designed to improve AIG's financial statements without the transfer of risk. Risk transfer is necessary for a deal to be an insurance transaction and determines how it's carried on a company's books.
On Sunday, the company forced out another longtime executive, Michael Murphy, an executive who worked for American International Co., a Bermuda-based unit of AIG. Previously, the company dismissed two other executives -- including Chief Financial Officer Howard I. Smith -- for refusing to cooperate with the probes.
AIG spokesman Chris Winans said Murphy was terminated "for failure to cooperate with investigators." He declined further comment.
The Journal said that Murphy was a confidante of Greenberg and an expert of tax matters. Murphy's attorney, Sean O'Shea, said Sunday that he had not been informed of his client's dismissal, and did not know whether Murphy had been notified.
A number of other AIG executives have been dismissed, including four who entered guilty pleas in the probe launched by Spitzer into bid rigging and price fixing by New York-based broker Marsh & McLennan Companies Inc.
Shares of AIG rose $1.41, or 2.5 percent, to close at $57.02 in Monday trading on the New York Stock Exchange, near the low end of a 52-week range of $54.28 to $77.36.
Winans said that the company is still aiming to release its delayed annual report on Thursday.
He told The Journal that AIG continues to "believe that the matters subject to review are unlikely to result in significant changes to the company's financial position," meaning shareholder's equity.
Greenberg is returning to the United States Wednesday or Thursday.
Posted by Tom Troceen at 12:43 AM
March 27, 2005
Insurer offers ID theft aid for policyholders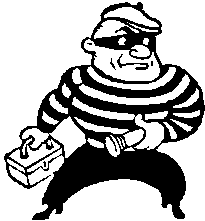 MetLife Inc., one of the nation's largest insurers, is rolling out a new program this week to provide free help in resolving cases of identity theft for all of its homeowner insurance policyholders.
"Our research over the last couple of years indicated that people needed help and assistance, not expense reimbursement," Edsall said.
Noel Edsall, director of MetLife Auto & Home product development, told The Associated Press that the ID theft resolution service would be launched first in New York and Florida, then expand nationwide.
While several insurance companies sell ID theft coverage, mainly to reimburse consumers for their costs in dealing with misuse of their credit cards or other accounts, MetLife will be the first that works with consumers to resolve their problems at no cost.
The program, which will be available to the nearly 1 million MetLife homeowners and renters policyholders, comes at a time that ID theft concerns are reaching epidemic proportions.
Thieves gain access to records
In recent weeks, several data collection companies have disclosed that thousands of their records were tapped by thieves. ID theft also tops the list of frauds reported to the Federal Trade Commission, which coordinates the government's consumer fraud prevention efforts.
Edsall said that the program will help consumers with identity theft, which can involve a fraudster taking over someone's identity and opening new accounts or buying cars, as well as account takeovers, which often involves the theft of a credit card.
Matt Cullina, manager of the MetLife team that developed the new service, said that MetLife policyholders who are victimized by ID thieves will be urged to phone the MetLife call center listed on their policies.
From there they will be directed to specialists at Identity Theft 911 LLC of Scottsdale, Ariz., which provides ID theft resolution services.
Program acts 'as advocate'
Sheryl Cox Christenson, the company's chief executive, said ID theft victims often don't know how to begin addressing their problems.
Identity Theft 911 "serves as an advocate," she said, providing services ranging from preparing affidavits to contacting local police and notifying credit bureaus on a consumer's behalf.
"In addition, we may get people who feel they've been exposed to the possibility of ID theft, say they get a letter from a business that says their account number has been stolen or they lose a wallet," Christenson said. "We are a place for those people to call, to get advice and hopefully stop anything bad from happening to them."
Several major banks, including Citigroup Inc. and Washington Mutual Inc., offer free identity theft services for their customers, but they generally focus on the most onerous cases. There are also a number of nonprofit groups that provide advice to ID theft victims, including the Identity Theft Resource Center in San Diego, which operates the site www.idtheftcenter.org.
Posted by Tom Troceen at 11:52 PM
March 23, 2005
Just a little reminder . . .
The deadline for exams P, FM and C is April 1, 2005. If you haven't already signed up, carpe diem! You can download the Spring 2005 application here along with school codes and test centers(pdf).
Here is a list of test dates:
Course/Exam

Duration

Date

Time

P*: Probability

**3 hours

Wednesday, 5/25

8:30 AM–11:30 AM

FM*: Financial Mathematics

**2hours

Thursday, 5/26

8:30 AM–10:30 AM

M: Actuarial Models

4 hours

Thursday, 5/19

8:30 AM–12:30 PM

C*: Construction and Evaluation of Actuarial Models

4 hours

Wednesday, 5/18

8:30 AM–12:30 PM

6

5 hours
25 min.

Friday, 5/13

8:30 AM–11:45 AM
and
1:30 PM–3:40 PM

EA-1

2 hours 30 min

Tuesday, 5/17

8:30 AM–11:00 AM

EA-2, Segment B

2 hours 30 min

Tuesday, 5/17

1:00PM–3:30PM
*Exams P, FM and C are identical to the CAS Exams 1, 2 and 4 respectively.
** There may be changes in the time allotments of Exams P and FM. However, starting times should be consistent with this schedule. You will be notified as soon as any changes in the schedule are finalized.
Note: Course 6 includes a read-through time. See the individual course description for details.
Posted by Tom Troceen at 04:58 PM
March 17, 2005
Actuaries Urge Further Action to Address Medicare's Financing Woes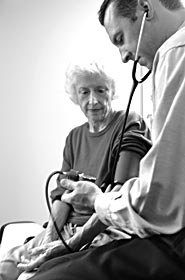 With the nation's attention focused on Social Security reform, few are mentioning that the Medicare program is in even more serious financial trouble. The 2005 Medicare Trustees Report to be released later this month is likely to mirror last year's report, indicating
that the program faces significant long-term financing problems.
Although the passage of the Medicare Modernization Act of 2003 made major changes to the Medicare system, there are still many concerns that lawmakers need to address. "Medicare still faces long-term financial problems, and if Congress and the president do not act, the program will not have enough money to pay full benefits in the future," said Cori Uccello, Academy senior health fellow.

The American Academy of Actuaries has released the issue brief Medicare: Next Steps, which outlines four areas of concern with the Medicare program, with Medicare's financing problems heading the list. The fund for Medicare's Hospital Insurance (HI) program, which pays for inpatient hospital care and is financed primarily through earmarked payroll taxes is expected to run out of money by 2019. Medicare's Supplementary Medical Insurance (SMI) program pays
for physician and outpatient care and the new prescription drug benefit program will remain solvent, but only because its financing is reset annually to meet projected future costs.
Medicare expenditures also will place increasing strains on the federal budget as payroll taxes cover a decreasing share of Medicare spending and general tax revenues will cover an increasing share. Increased spending for Medicare may eventually crowd out funds for other federal programs. Combining Medicare with Social Security spending further highlights the strain these programs place on the economy. "Tackling Social Security reform without addressing Medicare's financial problems ignores the nation's more pressing
challenge," Uccello said.
Further action should also be considered for these other areas of concern: balancing access to care while avoiding unnecessary utilization, private sector competition strategies, and insurance needs of individuals aged 55 to 64.
To see the issue brief, go to >http://www.actuary.org/pdf/medicare/next_feb05.pdf
The American Academy of Actuaries is the nonpartisan public policy organization for the U.S. actuarial profession. The Academy provides independent analysis to elected officials and regulators, maintains professional standards for all actuaries, and communicates the value of actuarial work to the media and public.
Posted by Tom Troceen at 01:39 PM
March 15, 2005
AIG's CEO Greenberg leaves the company

American International Group, Inc. (AIG) today announced that the Board of Directors has implemented its management succession plan with the election of Martin J. Sullivan as President and Chief Executive Officer, succeeding M. R. Greenberg, 79. Mr. Greenberg will serve in the capacity of non-executive Chairman. Mr. Sullivan, 50, who has served in a variety of senior positions during his more than 30-year career at AIG, was most recently Vice Chairman and Co-Chief Operating Officer.
AIG also announced that the Board of Directors elected Donald P. Kanak, 52, Executive Vice Chairman and Chief Operating Officer, focusing on Asia and working closely with Edmund S.W. Tse, Senior Vice Chairman - Life Insurance. Previously, Mr. Kanak was Vice Chairman and Co-Chief Operating Officer.
AIG also announced that Steven J. Bensinger, 50, has been elected Executive Vice President, Chief Financial Officer, Treasurer and Comptroller. He succeeds Howard I. Smith, 60, as Chief Financial Officer who has taken leave. Mr. Bensinger, who joined AIG in 2002, had been Senior Vice President, Treasurer and Comptroller.
AIG has also announced that the filing of its 2004 Annual Report on Form 10-K, which is due on March 16, 2005, will be delayed. This action is the result of the management changes described above as well as the Company's ongoing internal review of the accounting for certain transactions, which review was commenced in connection with previously announced regulatory inquiries. The Company does not believe that any of the matters subject to the review are likely to result in significant changes to the Company's financial position.
Frank G. Zarb, Chairman of the Executive Committee of the Board, said: "The Board deeply appreciates the enormous contributions that Hank Greenberg has made to AIG's growth and success over more than 35 years. As a result of Hank's leadership, AIG today is the largest and best capitalized insurance and financial services organization in the world. However, the Board has concluded it is now in the best interest of AIG's shareholders, customers and employees to turn to a new generation of leadership, and we are pleased that Hank Greenberg will assist in the transition."
Mr. Zarb continued, "Martin Sullivan's election follows the plan put in place by the Board and the CEO to ensure an orderly transition of senior management. AIG has a very strong and deep management team, and Martin Sullivan is a proven leader who will be an outstanding CEO. Martin has a distinguished record of accomplishment at AIG. He has achieved significant results in several key positions, and he has a deep understanding of AIG's major businesses throughout its domestic and international operations. We are also fortunate to have in Don Kanak and Steve Bensinger seasoned executives who will make important contributions to the Company. We thank Howie Smith for his many years of service as Chief Financial Officer."
Mr. Sullivan said, "I thank the Board of Directors for their confidence and support. I look forward to continuing to work closely with Don Kanak, Steve Bensinger and the entire senior management team. It is a daunting task to step into the shoes of Hank Greenberg. Thanks to his leadership, AIG's business units are managed by tested professionals who are leaders in their fields. Also, AIG has more than 92,000 hardworking and talented employees around the world, and their continuing commitment will enable AIG to keep serving the best interests of our shareholders and customers. We have an extremely strong business and our financial fundamentals remain intact. The company is committed to cooperating with the governmental authorities in their ongoing investigations. We take these matters seriously and want to bring them to resolution."
A Conference call for the investment community will be held Tuesday, March 15, 2005 at 9:00 a.m. EST. The call will be broadcast live on the Internet at: www.aigwebcast.com The call will be archived at the same URL through Friday, March 25, 2005.
It should be noted that the remarks made on the conference call may contain forward-looking statements. Please refer to the AIG Quarterly Report on Form 10-Q for the quarter ended September 30, 2004 and AIG's past and future filings and reports filed with the Securities and Exchange Commission (SEC) for a description of the business environment in which AIG operates and the important factors that may affect its business. AIG is not under any obligation to (and expressly disclaims any such obligation to) update or alter its forward-looking statements whether as a result of new information, future events or otherwise.
Martin J. Sullivan was elected AIG Vice Chairman and Co-Chief Operating Officer in May 2002, when he was also elected to the AIG Board of Directors.
He joined the company in the Finance Department of AIG's non-life company in the UK, AIU in 1971. In 1974, he joined the Property Department and held a succession of underwriting and management assignments in the UK and Ireland. In 1983, Mr. Sullivan was appointed Property Manager for the UK and later Regional Property Manager for the UK/Ireland.
In 1988, he was named Manager of AIU's London office and Regional Marketing Manager for UK/Ireland. Mr. Sullivan was appointed Assistant Managing Director of AIG Europe (UK) Ltd. in 1989 and Chief Operating Officer in 1991. In 1993 he was named President of AIU's UK/Ireland Division and Managing Director of AIG Europe (UK) Ltd.
He was elected Senior Vice President, Foreign General Insurance in 1996 and Executive Vice President, Foreign General in 1998. In 1996 he was appointed Chief Operating Officer of AIU in New York and named President in 1997. He was elected to the Board of AIG in May 2002.
Mr. Sullivan is an Associate Member of the Chartered Insurance Institute, a Fellow of the Institute of Leadership & Management, a Member of the Chartered Management Institute, a Director of the International Insurance Society and the Geneva Association. He also serves on the Business Advisory Committees of the St. George's Society and The British Memorial Garden Trust, and the Board of Trustees of the American Associates of the Royal Academy Trust. He is a Past President of British American Business Inc. and is a Director of Young Audiences
Inc. and Friends of London Youth Inc.
He is married, and has two daughters.
Donald P. Kanak was previously Vice Chairman and Co-Chief Operating Officer of AIG.
Mr. Kanak joined AIG in January 1992 with responsibility for AIG's life
insurance business in Japan and Korea, based in Tokyo. In March of 1995, Mr. Kanak was appointed President and Chief Operating Officer of the AIG Companies in Japan and Korea, and became President and Chief Executive Officer in January 2001. Mr. Kanak was named AIG Vice President in February 1999, and Executive Vice President in 2002.
Prior to joining AIG, Mr. Kanak was President and Chief Executive Officer of the Japan subsidiary of a U.S. life insurer and before that, he was a partner at a multinational consulting firm based in Washington, D.C., specializing in insurance and financial services.
Mr. Kanak is a member of the Council on Foreign Relations, the America-Japan Society, the Society of Financial Services Professionals, the Board of Visitors of the University of North Carolina at Chapel Hill, and the Advisory Committee to the Harvard Law School Program on International Financial Systems.
Mr. Kanak holds a B.A. degree in Economics with highest honors from the
University of North Carolina at Chapel Hill, a Juris Doctor degree with honors from Harvard Law School and a Master's degree in Management Studies from Oxford University, England. He also holds the Chartered Life Underwriter (CLU) and Chartered Financial Consultant (ChFC) designations of the American College.
Steven J. Bensinger was elected Senior Vice President, Treasurer and Comptroller of AIG in January 2005. Mr. Bensinger had served as AIG Treasurer since October 2002.
Prior to joining AIG, Mr. Bensinger was Executive Vice President and Chief Financial Officer of Combined Specialty Group, Inc., the insurance underwriting operations of Aon Corporation. Before joining Aon, Mr. Bensinger was Executive Vice President of Trenwick Group Ltd., a position he assumed in October 1999 concurrent with Trenwick's acquisition of Chartwell Re Corporation, where Mr. Bensinger served as President and a director. Mr. Bensinger's responsibilities at Trenwick included strategic planning, mergers and acquisitions, executive compensation, human resources and oversight of the legal function.
Mr. Bensinger joined Chartwell in March 1993 as President and, during his tenure with the company, concurrently served as Chairman and CEO of its UK operations from July 1998 to October 1999.
Prior to joining Chartwell, Mr. Bensinger was President and Chief Operating Officer and a director of Skandia America Reinsurance Corporation, a position he assumed in early March 1991. Prior to that he served as Skandia America's Executive Vice President and Chief Financial Officer. Mr. Bensinger also served as Chairman of the board of numerous Skandia subsidiaries.
Mr. Bensinger joined Skandia America in October 1987 after an eleven-year career with the international accounting and consulting firm of Coopers & Lybrand, where he was a partner in the New York insurance practice.
Mr. Bensinger is a Certified Public Accountant and a member of both the American Institute of Certified Public Accountants and the New York State Society of Certified Public Accountants. He graduated from New York University's Stern School of Business in 1976. Mr. Bensinger has since served as a Board member and as President of the Stern School of Business Alumni Association. He presently serves on the Board of the New York University Alumni Association.
American International Group, Inc. (AIG) is the world's leading international insurance and financial services organization, with operations in more than 130 countries and jurisdictions. AIG member companies serve commercial, institutional and individual customers through the most extensive worldwide property-casualty and life insurance networks of any insurer. In the United States, AIG companies are the largest underwriters of commercial and industrial insurance and AIG American General is a top-ranked life insurer. AIG's global businesses also include retirement services, financial services and asset management. AIG's financial services businesses include aircraft leasing, financial products, trading and market making. AIG's growing global consumer finance business is led in the United States by American General Finance. AIG also has one of the largest U.S. retirement services businesses through AIG SunAmerica and AIG VALIC, and is a leader in asset management for the individual and institutional markets, with specialized investment management capabilities in equities, fixed income, alternative investments and real estate. AIG's common stock is listed in the U.S. on the New York Stock Exchange and ArcaEx, as well as the stock exchanges in London, Paris, Switzerland and Tokyo.

Posted by Tom Troceen at 02:47 PM
March 10, 2005
Personal Accounts Neither 'Boon nor Burden' for Social Security Trust Fund, Says RBS Greenwich Capital Chief Economist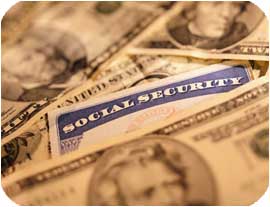 Who addresses the lesser talked about issues of Social Security reform? You hear ranting and raving across the aisle, but no new ideas from one side and weak sales pitches from the other.
According to RBS Greenwich Capital, the actuarial impact would be minimal, and assuming that you get what you pay for, the proposed system seems to cover most of the bases so the over 55s don't get left behind. When selling a Corvette, you wouldn't expect to hear the salesman to spend 95% of the time talking about the trunk space. That is what is happening now, and could be the death of reform.
In order to energize the nation with Social Security reform, the main selling points must be pitched. Rarely do you ever hear the discussion of how personal accounts can be passed on to your children, as oppose to the person who dies at 67 and one week old who paid into a pension for a measly, 200 and change. The arguments go both ways, however few shed light on how personal accounts could help people learn about investing and saving for the future. Social Security has never been a retirement plan. It is pulled out of the employee and employer's pocket and left for bickering politicians to manage. Where do you want your money?
RBS Greenwich Capital Press Release:
RBS Greenwich Capital, a leading fixed-income investment bank, today released the third installment of a four-part series on Social Security called, "Social Security Reform: Personal Accounts."
Written by RBS Greenwich Capital's Chief Economist, Stephen Stanley, the report details the macroeconomic implications of personal accounts and examines the actuarial impact they would have on the Social Security trust fund. Mr. Stanley also sheds light on some of the philosophical and political arguments for and against personal accounts.
"Transition costs for personal accounts should not be a hurdle," said Mr. Stanley. "From a macroeconomic standpoint, personal accounts should have a neutral to slightly positive impact on national savings."
Mr. Stanley added, "Personal accounts do not fix Social Security and do not have a negative effect on the actuarial status of the Social Security trust fund. The main rationale for personal accounts would be ideological, namely to encourage personal ownership and responsibility and to restructure the entire relationship between the federal government and its citizens."
For more information on Stephen Stanley's third installment or to receive a copy of the report, please contact Todd Miller at Cubitt Jacobs & Prosek Communications, 203.378.1152, ext. 149.
Posted by Tom Troceen at 12:32 PM
March 07, 2005
Actuaries Support Greenspan's Call for Action on Social Security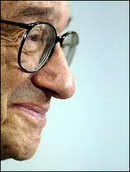 Kenneth A. Kent, vice president for pensions at the American Academy of Actuaries, offered support for the comments of Federal Reserve Board Chairman Alan Greenspan's remarks on Social Security reform before the U.S. House Budget Committee yesterday.
"Chairman Greenspan was right to call upon Congress and the president to enact Social Security reform 'sooner rather than later.' Time is the most important factor in the reform equation. There is a consensus that Social Security has to be reformed, but there is confusion about the impact specific reform proposals will have on people and the economy. The goal should be to make Social Security actuarially sustainable for future generations. The sooner reforms are put in place, the more impact they will have on reducing Social Security's financial shortfall, and the more time Americans will have to prepare and plan for changes in the program. As it stands now, future generations will carry the brunt of the sacrifices that will have to be made to sustain Social Security, and that is neither fair or responsible," said Kent.
Kent noted that the Academy has published analyses of the various reforms being considered, but it does not endorse any particular reform or combination of reforms. "Our role is to provide objective, unbiased advice to policymakers and the public."
For further information on Social Security reform, including publications and an on-line Social Security reform game, go to the Academy's Website at http://www.actuary.org/.
The American Academy of Actuaries is a 15,000 member non-profit, nonpartisan public policy organization, representing the U.S. actuarial profession. The Academy provides independent analysis to elected officials and regulators, maintains professional standards for all actuaries, and communicates the value of actuarial work to the media and public.
Posted by Tom Troceen at 01:42 PM
Actuaries Suggest Reforms to Strengthen Defined-Benefit Pensions
In an effort to help strengthen the nation's defined-benefit pension system to ensure retirement security for all workers and retirees, the American Academy of Actuaries has released an issue analysis detailing major steps for pension funding reform for single-employer plans. The analysis was delivered to key lawmakers on Capitol Hill during meetings held this week. "Employers, employees, the markets, and the nation will benefit by a stronger defined-benefit system," said Ron Gebhardtsbauer, the Academy's senior pension fellow.
Pension plans have been troubled for a number of years by a combination of low-interest rates and large declines in equity, which have resulted in increased liabilities and decreased asset values simultaneously. The total underfunding in private, defined benefit pension plans is an estimated $450 billion, according to the U.S. Department of Labor. Stakeholders, such as pension plan participants, employers, shareholders, and the Pension Benefit Guaranty Corporation (PBGC), have advocated that the pension funding rules be reformed. The current funding rules are overly complex and lack transparency, which has weakened the defined benefit system just as a large number of America's population is planning to retire.
This analysis addresses funding rule reform by presenting seven "Fundamental Principles for Guiding Pension Reform," developed by the Academy's Pension Practice Council and Pension Committee. Using these principles as guideposts for reform will strengthen the defined-benefit system.
The principles include: 1) Solvency; 2) Predictability and Hedgeability; 3) Transparency; 4) Incentives to fund and flexibility; 5) Avoidance of moral hazards; 6) Simplicity, and 7) Transition.
The Academy analysis addresses both incremental and comprehensive reform. "Whether reform is comprehensive or incremental, following these principles will result in creating a viable, sustainable retirement system," stated Kenneth A. Kent, vice president of the Pension Practice Council. The paper includes specific legislative changes that should be considered by Congress. The Academy encourages the development of new funding rules that will help employers maintain their defined-benefit pension plans, increase the number of employees protected by the income guarantee provided by defined-benefit pension plans, improve pension plans' funding levels, and reduce the risks and costs to the PBGC and participants.
To view the analysis, go to
http://www.actuary.org/pdf/pension/funding_issuebrief_05.pdf.
The American Academy of Actuaries is the nonpartisan public policy organization for the U.S. actuarial profession. The Academy provides independent analysis to elected officials and regulators, maintains professional standards for all actuaries, and communicates the value of actuarial work to the media and public.
Posted by Tom Troceen at 01:41 PM
Social Security Projections vs. Political Predictions - An Actuary's View
SOCIAL SECURITY PROJECTIONS VS. POLITICAL PREDICTIONS- AN ACTUARY'S VIEW
There's a misapprehension abroad in the land. Politicians, media people, and other societal leaders are drawing unjustified conclusions from mathematical estimates. How? By ignoring the probabilistic nature of long-term forecasts and expressing 100% certitude that Social Security is doomed to fiscal collapse.
These alchemists transmute uncertain projections into hard and fast predictions. For example, in his article in the Wall Street Journal, Bob Kerrey says that in eight years, income from payroll taxes will (emphasis added) be insufficient to pay Social Security benefits owed at that time. More startingly, Treasury Secretary Snow tells Congress that everyone needs to agree that the Social Security System is "headed for ruin." More folksy, but with hardly less hyperbole, George Bush says that Social Security will be "flat bust, bankrupt" in 40 years unless Congress acts now.
Posted by Tom Troceen at 01:39 PM
March 01, 2005
US life expectancy up to 77.6 years; gender gap narrows
Declines in death rates from most major causes -- including heart disease and cancer -- have pushed Americans' life expectancy to a record 77.6 years. Women are still living longer than men, but the gap is narrowing.
Women now have a life expectancy of 80.1 years, 5.3 more than men. That's down from 5.4 years in 2002 and continues a steady decline from a peak difference of 7.8 years in 1979, the National Center for Health Statistics said yesterday in its annual mortality report.
Mary A. Salmon, a sociology professor at the University of North Carolina, said that the rising life expectancy rates have caused ''lots of speculation on how this will affect Social Security."
Posted by Tom Troceen at 08:38 PM
New Swiss Re Sigma Study on Catastrophes in 2004: More Than 300,000 Fatalities, Insured Losses Reach Nearly USD 50bn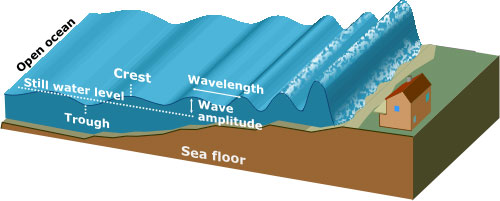 More than 300,000 people died in natural and man-made catastrophes in 2004 -- the tsunami in the Indian Ocean alone left 280,000 dead or missing. According to the latest study by Swiss Re, catastrophes caused insured losses totalling USD 49bn worldwide; most of this figure was due to windstorms in the US and Japan.
Swiss Re's sigma statistics for 2004 identify around 330 natural and man-made catastrophes worldwide, in which more than 300,000 people lost their lives. By far the largest number of victims was claimed by the tsunami in the Indian Ocean: the authorities in the twelve coastal states affected reported 280,000 people dead or missing.
The sigma study just published puts the total losses directly attributable to these natural and man-made catastrophes at USD 123bn -- of this figure, USD 49bn was covered by property insurance. For property insurers, 2004 was a record year in terms of claims, mainly due to windstorms: hurricanes in the US and neighbouring countries cost insurers around USD 32bn, typhoons in Japan and neighbouring countries a further USD 6bn.
These record figures were the result of both the unusually high number of storms -- 13 hurricanes in the US and 10 typhoons in Japan -- and the increasing concentration of insured assets in highly exposed coastal regions. Climatologists attribute the high windstorm frequency to above-average sea-surface temperatures and the high year-round average temperatures measured in the last decade. 2004 was the fourth-warmest year around the world since regular temperature measurements started in 1861.
The trend toward increasing concentrations of assets was highlighted by the damage inflicted by the hurricanes in Florida: the enormous losses of USD 19bn have to be seen against the background of 70% population growth between 1980 and 2001; in the same period, the state's gross domestic product increased by 130%. Further to tables that give an overview of the catastrophes in 2004, the sigma study also traces the biggest losses since 1970. The statistics show that, at almost USD 50bn, insured losses have taken on a new dimension. Unlike in 1992 and 2001, when one-off events such as hurricane Andrew and the 11 September terrorist attack dominated the claims burden, the record impact in 2004 was due to an aggregation of several costly losses.
Posted by Tom Troceen at 01:23 PM
US asbestos bill at critical stage - Sen. Specter
A proposal for a $140 billion asbestos compensation fund will be put in the "deep freeze" unless lawmakers soon agree on the details, Senate Judiciary Committee Chairman Arlen Specter warned on Tuesday.
Specter, author of the draft bill to take asbestos injury claims out of court and pay them from the fund, said the proposal is at a critical stage and would be removed from his committee's agenda in the next few weeks if feuding continues on the fund's size and other issues.
Posted by Tom Troceen at 01:22 PM
New York Life Enhances Its Whole Life Insurance Products
Broader Access to Best Risk Class and New Conversion Privilege Give Consumers Access to More Permanent Insurance Protection and Greater Peace of Mind
New York Life Insurance Company today announced new competitive features to its popular whole life product line. The best risk class for qualifying consumers is now offered at lower face amounts. In addition, a new conversion privilege is available on the Dividend Term Option (DOT) rider. Policyowners can now convert this rider to Whole Life or Modified Premium Whole Life during the first 10 years, regardless of their health.
"These enhancements make New York Life's whole life insurance products even more attractive to consumers as an important product for their families," said Scott Berlin, vice president, Individual Life Department. "As a mutual life insurer with financial strength and stability, New York Life is particularly well situated to provide outstanding whole life options. With the enhancements we've introduced, policyowners are better equipped to take control of their financial future while effectively preparing for tomorrow's unexpected events. These enhancements will help make whole life insurance a product that is truly aimed at providing coverage for a consumer's entire life."
New features and options available through the enhanced whole life product include lower face amount limits for the best risk class: $100,000 for Whole Life and $250,000 for Modified Premium Whole Life. The new product also features an improved DOT rider that now includes a conversion privilege allowing policyowners to convert the remaining term portion to a Whole Life or Modified Premium Whole Life within the first 10 years without evidence of insurability. Conversion options allow policyowners to lock in their future insurability; either at their current age or the age they were when they purchased the rider. This product is not yet approved in all states.(1)
The DOT rider helps consumers get additional death benefit protection. The DOT rider works in conjunction with the "paid-up additions" dividend option, which applies any dividends earned to automatically purchase paid-up life insurance. Please keep in mind that these dividends are not guaranteed. Paid-up insurance means that, once purchased, policyowners won't pay a premium for this additional coverage. As the amount of paid-up insurance increases, the amount of term insurance provided by the rider decreases.
Posted by Tom Troceen at 01:18 PM