« Google ad puts Eliot Spitzer on the hot seat | Main | Insurance Incentive Hikes Car Sales 23 Percent »
April 12, 2005
The Former Chief of AIG Is Silent Before Regulators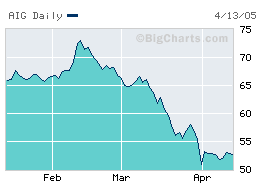 Maurice R. Greenberg, the former chief executive of the insurance giant American International Group, arrived at the New York attorney general's office in Lower Manhattan yesterday morning for a meeting with prosecutors and regulators that had forced his departure from the company last month.
He left the offices of the attorney general about an hour after he arrived, having invoked his Fifth Amendment right against self-incrimination "dozens of times" in response to questions about his company's insurance operations, according to people briefed on the meeting.
Continue reading "The Former Chief of AIG Is Silent Before Regulators (NY Times)"
Posted by Tom Troceen