« The Former Chief of AIG Is Silent Before Regulators | Main | U.S. companies reduce pension payments »
April 12, 2005
Insurance Incentive Hikes Car Sales 23 Percent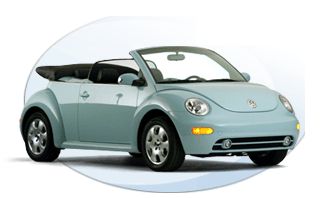 - Two-thirds of buyers say auto insurance incentive prompted them to buy a VW
The first test of an incentive in which an automaker paid the insurance on every new car in the pilot concluded March 31 with a 23 percent rise in year-to-year sales. Two-thirds of buyers said the insurance package was influential in their purchase decision.
The results were announced today by Creative Innovators Associates, LLC, a Long Island consulting and marketing firm that invented and is patenting the In The Car (ITC)(TM) incentive program, with information provided by Volkswagen of America Inc., which piloted the unique incentive.
Volkswagen provided one year of insurance underwritten by Nationwide Mutual Insurance Company and its affiliated companies. Insurance for every new Golf, New Beetle and New Beetle Convertible purchased or leased in Illinois and Wisconsin from January 4 through March 31, 2005. Proof of residency and a valid driver's license in either state were the only requirements.
Volkswagen reported that year-to-year sales of the three models rose 23 percent in Wisconsin and Illinois during the three-month pilot, compared to a decline of 15 percent on those models nationally.
Creative Innovators' agency call center, which handled the initial customer and dealer contact, polled the drivers of the covered VWs and found:
* Two-thirds said the ITC(TM) incentive "greatly" or "somewhat"
influenced their decision to purchase the car.
* Creative Innovators' forecast that the incentive would attract a wide
range of buyers -- not just young, high-risk males -- was borne out:
Two thirds of the primary drivers are between the ages of 30 and 64.
* The incentive attracted male and female drivers in nearly identical
numbers.
* More than half the primary drivers are married.
"We designed the In The Car(TM) incentive to move the focus away from rebates, which diminish a car's resale value, and to put the spotlight on something the customer truly needs and values: insurance," said Bob Wallach, managing member of Creative Innovators and inventor of the program. "Our statistics show insurance is the second most expensive element in new-car ownership."
The pilot also showed that the ITC(TM) incentive was effective in targeting specific models on a state-by-state basis, Wallach said. Creative Innovators strategically focuses on segmented incentive programs, which deliver cost-effective sales.
"Our patent-pending processes and systems can certainly adapt to a mass-market approach, but we believe that the auto industry currently needs laser-sharp marketing programs, and that is where the expertise of Creative Innovators Associates lies," he said. "Our trend analysis shows that targeted, segmented incentives will inevitably prove to be the most efficient and least costly growth strategy for auto marketers."
Analysis from automotive research leader Edmunds.com indicates that regional incentives are inherently more cost-effective than national incentives. Successful national programs must be generous enough to dramatically draw consumer attention in every market, while regional incentives can be tailored to fit more specific buyer demographics and tendencies.
"The ITC(TM) pilot showed us that consumers recognized the value of insurance-added incentive," Wallach said. "Rebates ultimately hurt the resale value of their cars and only a fraction of buyers qualify for zero percent financing offers. In The Car(TM) insurance includes virtually all buyers of the targeted models."
"It is important to consider all ownership costs of a vehicle, not just the purchase price," according to Phil Reed, author of Edmunds.com's Strategies for Smart Car Buyers. "Depreciation can be an unexpected blow to those who take advantage of large cash rebates and want to sell the vehicle a short while later."
Nationwide Insurance, VW and Creative Innovators continue to analyze the results of the pilot and explore options to continue their collaboration.
"Nationwide is now conducting a more thorough analysis of the program, which we anticipate will take some time to complete," said Bonny Parker, Vice President of Standard Auto Product Management for Nationwide. "However, we are quite pleased with the initial results of the In The Car pilot."
Wallach praised the team that launched the pilot: "The results of this pilot exceeded our expectations. It proved our back-shop systems. Dealers told us they were pleased by the training, the effectiveness of the incentive and the no-hassle buying experience, in which they were able to hand a customer a temporary insurance certificate in less than five minutes.
"Through the hard work and creativity of Volkswagen and Nationwide, we executed a truly innovative method of marketing vehicles," he continued. "The results validated what we believed all along: that ITC(TM) can revolutionize the way car insurance is sold."
About Creative Innovators Associates
Creative Innovators Associates, LLC, is an intellectual-property company based in Bethpage, New York. Creative Innovators and its subsidiaries create and implement innovative business concepts independently and in partnership or joint venture with other institutions. Its portfolio focuses on the financial-services and automotive industries, as well as employee benefit programs for large companies. Website is http://www.cia123.com.
In the Car is a trademark of Creative Innovators Associates, LLC. In The Car(TM) insurance products and services are patent-pending programs offered by Volkswagen under a license from Creative Innovators Associates, LLC.
About Nationwide
Nationwide Mutual Insurance Company and its affiliated insurance companies, based in Columbus, Ohio, is one of the largest diversified insurance and financial services organizations in the world, with more than $148 billion in assets. Nationwide ranks 99th on the Fortune 500 list. The company provides a full range of insurance and financial services including auto, homeowners, life, health, commercial insurance, administrative services, annuities, mutual funds, pensions and long-term savings plans. For more information, visit http://www.nationwide.com.
About Volkswagen of America
Founded in 1955, Volkswagen of America, Inc. is headquartered in Auburn Hills, Michigan. It is a subsidiary of Volkswagen AG, headquartered in Wolfsburg, Germany.
Volkswagen is one of the world's largest producers of passenger cars and Europe's largest automaker. Volkswagen of America and its affiliates employ approximately 3,000 people in the United States and are responsible for the sale and service of Audi, Bentley and Volkswagen products through retail networks comprising in total more than 900 independent U.S. dealers.
Posted by Tom Troceen