« Towers Perrin Outlines Detailed Recommendations for Pension Funding Reform | Main | AIG Just got a little bigger »
June 15, 2005
Actuaries Fare Better Than Cowboys When Weighing Some of the Best and Worst Jobs, Says CareerJournal.com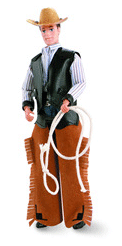 Many children dream of one day being a cowboy or a cowgirl. Few, if any, want to be an actuary. Little do they know.
The editors at CareerJournal.com, The Wall Street Journal's executive career guide, recently asked themselves a pair of questions: What are some of the best jobs out there, and what are some of the worst? And not in terms of glamour -- or just in terms of salary -- but in terms of things such as job security, emotional stress and basic physical safety.
When people are working full time -- perhaps in a job that they don't particularly enjoy -- it's easy to imagine that the proverbial "grass may be greener" for those in other careers. But unless they are peppered with questions, it's difficult to find out what their work is really like. How stressful is the work, what's the work environment like and is there room for growth?
CareerJournal.com editors conferred with Les Krantz, a nonfiction publisher and researcher based in Lake Geneva, Wisc. -- for some help. Mr. Krantz has researched good jobs -- and bad ones -- using data from sources such as the Bureau of Labor Statistics and judging by some of his own hunches.
Mr. Krantz uses six main factors to judge a job: income, stress, physical demands, outlook, security and work environment. Sometimes, data behind the factors is old, and sometimes it's tough to come by -- thus, the hunches. Along the way, Mr. Krantz makes some assumptions about those factors' importance for workers -- assumptions that some might disagree with. One assumption, for example, is that it's better to work indoors in an air-conditioned office than to work outside. Another assumption is that it's better to be in a noncompetitive environment. Yet another is that it's important to earn more money.
The upshot: Some secure, well-paying office jobs, such as an actuary, landed high. Some physically demanding, high-risk jobs, such as cowboy, brought up the rear. Based on these factors, listed below are some of the other best and worst jobs that Mr. Krantz came up with.
BEST
- Accountant
- Actuary
- Bank Officer
- Biologist
- Computer systems analyst
- Financial planner
- Parole officer
- Software engineer
- Statistician
- Web site manager
WORST
- Construction worker (Laborer)
- Cowboy
- Dancer
- Fisherman
- Garbage collector
- Ironworker
- Lumberjack
- Roofer
- Seaman
- Welder
"Are these the best and worst jobs for everyone? Of course not. Was there as much art as science at play in coming up with these jobs? Of course," says Tony Lee, publisher, CareerJournal.com. "But they made us rethink just what it means to have a good job. We hope they do the same for jobseekers."
For more information, visit http://www.CareerJournal.com.
Posted by Tom Troceen