« Fed's Gramlich questions Social Security actuaries | Main | 2005 CAS Spring Meeting Webcast now available for download »
May 17, 2005
Cairnstone Re Chief Actuary Sets Off on Cross-Country Cycling Tour for Charity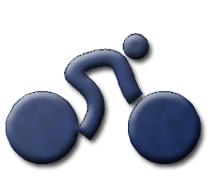 Fallisi Calculates That 17-State Trip Will Generate $30,000 in Donations
Pedaling aside the cliche of a number-crunching actuary with little sense of adventure, Cairnstone Re vice president and chief actuary, Paul Fallisi, started yesterday on a journey that will ultimately change his life, and hopefully the lives of many others.
When Fallisi and his brother, William, dipped their back tires in the Pacific Ocean in San Diego yesterday afternoon, they began a cross-country bicycle trek that will eventually lead them to wetting their front wheels in the Atlantic Ocean some 30 days later.
The transcontinental tour that Fallisi and his brother are undertaking is being done to raise money for the famed Jimmy Fund in Massachusetts and the National Multiple Sclerosis Society.

Over the next month, Fallisi, 44, will forego his actuarial tables and spreadsheets as he sets his sights on a simple set of numbers: 110, 3,333 and 30,000.
The Fallisis, both of New Hampshire, will cover approximately 110 miles a day to accomplish their 3,333-mile journey that is expected to raise $30,000 for their cause. Their sojourn will cross 17 states with an expected finish in New Hampshire on June 12.
"I've always been very goal oriented, whether at work or in my personal life, and I see this as something that will be incredibly rewarding not only for the experience it offers, but to actually hand over a large amount of money to help further the mission of two vital charities," said Fallisi.
Cairnstone, one of the primary sponsors of the team, will keep a regular log of the cyclists' travel on its website, www.cairnstone.com. The site will feature a cross-country map showing their day-to-day progress, as well as daily updates from Fallisi.
"We are so excited and proud of what Paul is looking to accomplish," said Jim Tillett, president and CEO of Cairnstone. "His dedication to raising funds for these two charitable organizations exemplifies our firm's commitment and dedication to lending a helping hand in the communities where we conduct business." Paul has received donations from many of Cairnstone's carriers, fellow employees, clients and even competitors as well as from individuals from his hometown. One of the most touching contributions came from two children who raised $9 selling lemonade and sent it to the Fallisis to benefit children with cancer.
Fallisi joined Cairnstone nine years ago as one of the company's founders. Today, he works in the company's Andover, MA office. He became a bicycle enthusiast 10 years ago when a friend challenged him to cycle the length of Vermont; he succeeded and became hooked on cycling. Over the past five years, Fallisi has been actively raising money for the National M.S. Society.
To donate to Fallisi's cause, log on to www.cairnstone.com and click on the Cycle Across America link.
Founded in 1996, Cairnstone Inc., dba Cairnstone Re, manages employer stop-loss insurer programs and provides catastrophic claims management assistance to hundreds of self-funded employer groups nationwide. Cairnstone Re is also a leading provider of catastrophic medical coverage to hospital and physician groups. The company has agreements with several leading insurance carriers to market, underwrite and manage those excess loss programs. In addition to its headquarters in Miami, Cairnstone Re has offices in nine cities across the country.
Posted by Tom Troceen