« Yes, there's an insurance for that | Main | Asbestos continues to hurt Hardie »
February 10, 2005
Top Jobs: Wonder if I ought to be an actuary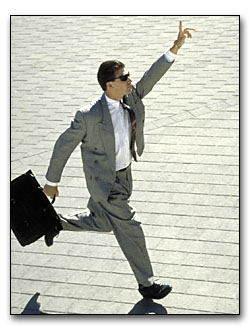 By Scott Hollifield
The McDowell News
The list of the top 25 jobs for 2005 is out and, unfortunately for me, hauling a tar bucket is nowhere to be found.
Maybe that's number 26.
Fast Company magazine bases its annual index on job growth, salary potential, education level and room for innovation. In one of these occupations, a person will probably be better paid, more satisfied and less likely to beat a coworker on the head with a 2-by-4 than in most other jobs, such as working at a newspaper.
Relying on data from the Bureau of Labor Statistics, Salary.com. and the work of Dr. Kevin Stolarick, an expert at Carnegie Mellon University, the magazine concluded that the top jobs are: Personal-finance advisor; medical scientist; computer-software engineer; chiropractor; environmental engineer; biochemist and biophysicist; sales manager; epidemiologist; computer-system analyst; athlete; agent and business manager; marketing manager; producer and director; actor; lawyer; advertising manager; management analyst; postsecondary-education administration; financial manager; actuary; airline pilot; geoscientist; market-research analyst; securities-sales agent and medical-services manager.
My inventory
Figuring this might be a good time to make a career change and settle into one of those top 25 jobs, I began to tally all the things besides filling holes in the newspaper that someone had paid me to do: Cook shrimp; wash dishes; fry chicken; disseminate community-college information; umpire softball games; load hay; mow grass; build an addition onto a gas station; and tar the roof of the Winn-Dixie on the Fourth of July.
That the Winn-Dixie is no longer standing in its original location is more indicative of small-town progress and the migratory nature of chain grocery stores than the quality of my roof-tarring. In other words, I hauled the bucket real good, according to my coworkers at the time.
In most of these labors, I was rewarded with insight and experience but little job satisfaction. I did get sunburned, ripped off, yelled at, bored, bee stung, beat down, scratched up and - once - invited to go skinny dipping with a waitress.
Every job has a perk or two.
Licensing tricky
Scanning the list of the top 25 occupations, I realized that I was qualified for very few. Some, like airline pilot and lawyer, require licenses that you cannot, I found, obtain legally over the Internet.
Anything related to finances is out. My wife issues me one blank check at a time, much like Barney Fife and his single bullet.
I cannot be an analyst; every time I look at the word, I snicker.
As far as acting, I did costar in a junior-high production of No Boys Allowed, the first and so far only time I have appeared publicly in a dress. Though I failed to save any of the reviews, I do recall that one critic called my performance a triumph of "overacting, constant mugging and ill-advised ad libbing. This young man is no Ricky Schroeder."
Of all the jobs on the list, I figured that actuary was my best bet because I didn't know what it was. It's tough to be unqualified for something when you don't know what it is.
Actuary, I learned from Fast Company magazine, is a risk assessor, which means that most of them work in the insurance industry. I believe I would make a fine actuary.
"Whoa, wait just a minute there, Bobby Earl. If you climb up that ladder with the tar bucket after having a Pabst Blue Ribbon, I assess the risk of you falling off and breaking your neck as rather high."
I wonder if waitresses like actuaries?
• Scott Hollifield is editor of The McDowell News, a Media General newspaper. Contact him at P.O. Box 610, Marion, NC 28752 or e-mailrhollifield@mcdowellnews.com

Posted by Tom Troceen