« Get the most out of Actuarial News | Main | CXO Systems Announces Enterprise Risk Management Dashboard; Author and Risk Expert, James Lam, Joins CXO Systems as Advisory Board Member »
February 07, 2005
One Vote for Health Savings Accounts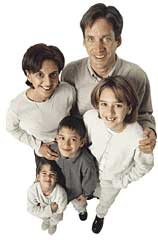 Aetna announced today that it has begun marketing six new preferred provider organization (PPO) plans for individuals and their families in Connecticut. The two new Aetna high-deductible health plans, which are compatible with health savings accounts (HSAs), and four new Aetna Advantage PPO plans are designed to provide affordable, comprehensive health coverage options for individuals and their families.

"With more than 150 years in business in Connecticut, Aetna is firmly committed to addressing the health insurance needs of the growing uninsured population," said James Reid, Aetna's general manager for small business in the Northeast Region. "Our cost-effective plans provide individuals and their families with a wide range of choices and benefits levels, as well as the information and tools they need to make informed health care decisions."
Aetna is offering individuals and their families six new PPO plan designs. Four of the plans, which are called Aetna Advantage PPO plans, offer members the freedom to go directly to any doctor, hospital or health care professional - including specialists - for covered expenses, with no referrals required. If a member chooses a health care professional from Aetna's extensive network of participating physicians and hospitals, out-of-pocket costs will be lower and there are no in-network claim forms. The plans include "first dollar coverage" and no deductibles for in-network doctor office visits.
All Aetna Advantage PPO plans feature coverage for routine checkups and preventive care, specialty care, chiropractic care, hospitalization and surgery, diagnostic testing, emergency care and urgent care, subject to applicable copayments, coinsurance and deductibles. The plans also include prescription drug coverage, subject to a deductible, copayments and calendar-year maximum, with no deductibles for generic prescriptions.
The additional two plans, Aetna high-deductible health plans, which are compatible with HSAs, offer members similar benefits to the Aetna Advantage PPO plans. However, members can take advantage of a flexible health benefits plan tied to an HSA. HSAs are tax-advantaged accounts used to pay for qualified medical expenses. HSA contributions are tax deductible and earn interest tax free. HSAs are portable, and unused balances can be carried forward from year to year, making them a strong value for consumers. Aetna can offer members a convenient referral option for establishing their HSA accounts, or members have the freedom to choose their own HSA provider.
In addition to plan benefits, through the Vision One(R)(1) discount program, Fitness Program and Alternative Health Care Programs, members may access discounted rates from certain providers for products and services available to the general public. The Vision One program offers special member discounts on eye care products and services at participating optical centers. The Fitness Program provides special membership rates at participating fitness clubs contracted with Global Fit and discounts on certain equipment. The Alternative Health Care Programs offer reduced rates on alternative therapies for members, including visits to chiropractors, acupuncturists, nutritional counselors and massage therapists, and members can save on over-the-counter vitamins and nutritional supplements through the Vitamin Advantage(TM) program.
To help members make informed decisions, Aetna offers online tools such as Aetna Navigator(TM), a member self-service website that provides a record of personal health information, and DocFind(R), a directory members can use to search for health care professionals and facilities by type, specialty, name, gender, language, hospital affiliation and other criteria. Members also have access to Aetna InteliHealth(R), an online consumer health information website.
"The future of health care is consumer-directed plans," said Bob Dick, an agent for Peter M. Bakker Agency, Inc., an Avon-based independent benefits brokerage firm. "I am excited to see Aetna offer a high-deductible health plan, compatible with an HSA, for individuals and their families. There is a strong interest in the marketplace for this type of coverage. With Aetna's strong reputation and national presence, I foresee these plans appealing to many as the solution for their health care needs."
Aetna plans for individuals and their families are currently being sold directly to consumers or through independent insurance agents and brokers in Arizona, Delaware, Illinois, Pennsylvania, Texas, Virginia and Washington, D.C. Aetna intends to offer similar plans in additional states this year.
Aetna plans for individuals and their families are available in all counties in Connecticut. Aetna members in Connecticut have access to a network of 32 acute care hospitals, 2,418 primary care physicians and 7,969 specialists.
As one of the nation's leading providers of health care, dental, pharmacy, group life, disability and long-term care benefits, Aetna puts information and helpful resources to work for its approximately 13.6 million medical members, 11.6 million dental members, 8.3 million pharmacy members and 13.3 million group insurance members to help them make better informed decisions about their health care and protect their finances against health-related risks. Aetna provides easy access to cost-effective health care through a nationwide network of more than 646,000 health care professionals, including over 385,000 primary care and specialist doctors and 3,908 hospitals. For more information, please visit www.aetna.com. (Figures as of September 30, 2004)
Posted by Tom Troceen