« UCT student wins actuaries' award | Main | Nation's Largest Industry Trade Group Joins Fight for Legal Reform in the States »
January 25, 2005
Introduction of the Airbus A380 Poses Liability Insurance Challenge
Aon Expert Says Aviation Industry Should Revisit the Introduction of the 747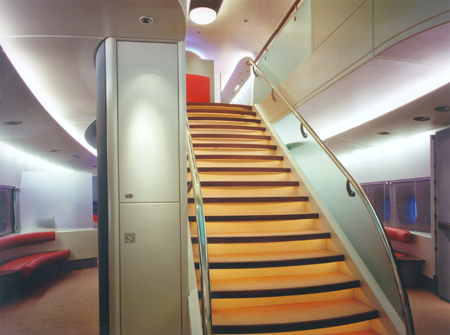 With the introduction last week of the 555-passenger Airbus A380 aircraft, an Aon aviation expert says the world's aviation industry must now look to the past to accommodate what may be its future.
Wayne Wignes, president of Aon's Aviation Group, says the A380, with a tail assembly nearly 80 feet high and a fuselage measuring nearly 240 feet, poses significant insurance challenges for the airlines. He predicts insurance liability limits will rise for the entire industry, regardless of whether a given airline places an order for the A380. "An airline doesn't have to own the aircraft to be affected by the increased liability limits," he says. "There will likely be a need for an alternative capital market for this airplane. Airlines will probably have to carry $3 billion in liability limits to indemnify themselves. That pushes the edge of the financial capabilities of the traditional aviation insurance market, which usually works with liability limits in the $1.5 to $1.75 billion range. That is simply a bridge too far for a small community with finite resources. So the airlines will have to depart from their traditional approaches."
Wignes says that is what happened some 35 years ago when Pam Am introduced the 747. In 1969 a new financial model was developed to accommodate the liability demands posed by the jumbo jet. Wignes suggests the industry should refer to that model as the basis for creating a new financial facility.
The introduction of the Airbus also poses some equally daunting operational challenges. "Some taxiways simply aren't long enough," Wignes says. "In other cases, airport gates may have to be spaced farther apart to contend with an airplane with a 262-foot long wingspan."
Providing nearly every insurance and risk management resource to support the growth of the aviation industry, Aon delivers risk management solutions to many companies in a variety of aviation industry sectors, including: airlines, corporate aircraft, helicopters, airports, fixed-base operations and aerospace product manufacturers. Aon Aviation is the U.S. airline market share leader.
Aon Corporation (NYSE: AOC - News; http://www.aon.com ) is a leading provider of risk management services, insurance and reinsurance brokerage, human capital and management consulting, and specialty insurance underwriting. The company employs approximately 51,000 professionals in its 600 offices in more than 120 countries. Backed by broad resources, industry knowledge and technical expertise, Aon professionals help a wide range of clients develop effective risk management and workforce productivity solutions.
     EDITORS NOTE:
     Interview availabilities:
     Steven Doyle, executive director, Aon Global Aviation, London
     Wayne Wignes, president, Aon U.S. Aviation, Chicago
This press release contains certain statements relating to future results, which are forward-looking statements as that term is defined in the Private Securities Litigation Reform Act of 1995. These forward-looking statements are subject to certain risks and uncertainties that could cause actual results to differ materially from either historical or anticipated results, depending on a variety of factors. Potential factors that could impact results include the general economic conditions in different countries around the world, fluctuations in global equity and fixed income markets, exchange rates, rating agency actions, resolution of pending regulatory investigations and related issues, including those related to compensation arrangements with underwriters, pension funding, ultimate paid claims may be different from actuarial estimates and actuarial estimates may change over time, changes in commercial property and casualty markets and commercial premium rates, the competitive environment, the actual costs of resolution of contingent liabilities and other loss contingencies, and the heightened level of potential errors and omissions liability arising from placements of complex policies and sophisticated reinsurance arrangements in an insurance market in which insurer reserves are under pressure. Further information concerning the Company and its business, including factors that potentially could materially affect the Company's financial results, is contained in the Company's filings with the Securities and Exchange Commission.
     Contact:
     Al Orendorff
     312-381-3153
Posted by Tom Troceen