« The day Hardie's sums didn't add up | Main | OB-GYNs struggle with rising insurance rates »
October 22, 2004
Revisiting An Offshore Operations Discussion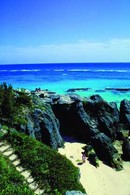 Much like a few ill-fated flights that have crossed the path of the mysterious Bermuda Triangle, some offshore operations have disappeared without a trace. For others though, it's been fun in the sun while sipping tropical drinks from bamboo glasses with mini umbrellas.
The January 2001 edition of The Actuary newsletter ran a panel discussion titled "Actuaries discuss reasons for growth of offshore operations." There have been major changes in the offshore market in the last three years. New faces have appeared and then disappeared. Major players have become minor players. Business plans have changed.
What has gone on recently?
Posted by Tom Troceen