« American Safety Insurance Holdings, Ltd. Reports Completion of Actuarial Reserve Evaluation | Main | Second WTC insurance trial to begin »
October 12, 2004
Dude, what's wrong with your Dell?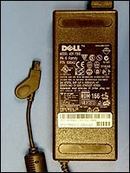 Dell Inc. is recalling about 4.4 million power adapters for some of its laptop computers because of a risk of overheating, which could lead to a fire or electrical shock, the computer manufacturer said Friday.
Customers can also contact Dell at 1-800-418-8590 from 9 a.m. to 6 p.m. CT Monday through Friday, or consult Dell's Web site.
Posted by Tom Troceen