« GOP Parties Short on Events Insurance | Main | Western Actuarial Bureau 1924 FIRE PREVENTION Manual »
August 27, 2004
Get the most out of Actuarial News
ActuarialNEWS.org is equipped with a free RSS feed that gives you up-to-date stories hot off the presses. Some of you may be new to syndicated sites. Understanding it is simple, and getting started only takes a few clicks. Sites, much like this one, are converted into different formats (this one is XML) and RSS readers are used to detect changes in a site's content and update you according to the newest added articles.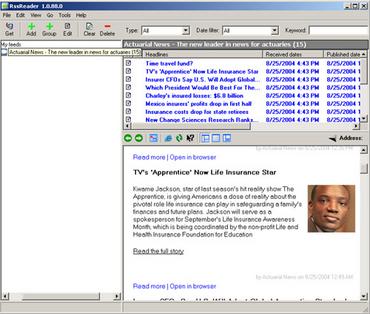 Above is a screen shot of what the reader will look like; much like a typical email interface. There are many types of RSS readers out there. A good one to have is Pluck, which can be downloaded at Pluck.com. Pluck requires the new Windows Service Pack 1, 1a or 2. You can also download an easy to use reader directly from ActuarialNEWS.org by clicking the link below. Continue reading this article for further instructions on how to install your RSS reader and get started receiving real time updates from ActuarialNEWS.org and more.
When you go through the installation screen, be sure to read each screen. The check box for "automatically start RSS Reader on Windows start up" is checked automatically. Unchecking this box is suggested so it doesn't take any longer to start up your computer every morning.
Now that you have installed RSS Reader, you should have a program that looks like the one above. In the toolbar there is a button with a "+" and the word "Add," click this box.
You should get a prompt box that looks like this:

Cut and paste this line:
http://www.actuarialnews.org/actuarial_news_home/index.rdf
And click "Next"
The following screen will allow you to edit the name as it will appear on the reader.
Click "Next"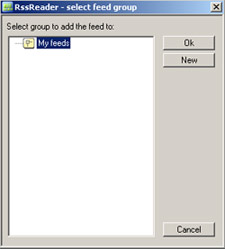 This screen will allow you to create folders much like an in box, out box and trash folder for your email; only here, you can categorize your news and other info. When you're done, click OK.
RSS Reader will add the new feed and update accordingly.
To configure the reader the way you want it (i.e. turn off the sounds and other options) you can follow the tab Tools >> Options. Go through the tabs and set RSS Reader to your desired configuration.
Some useful RSS feeds that you can add to your reader:
Actuary.net - http://edit.actuary.net/xml/rss.xml
yahoo news - http://rss.news.yahoo.com/rss/topstories
odd news - http://rss.news.yahoo.com/rss/oddlyenough
Washington Post - http://www.washingtonpost.com/wp-srv/nation/rssheadlines.xml
NPR Top Stories - http://www.npr.org/rss/rss.php?topicId=2
NPR Business - http://www.npr.org/rss/rss.php?topicId=6
and the list goes on.
You can search for more RSS feeds by following this link.
Posted by Tom Troceen
Comments
Post a comment